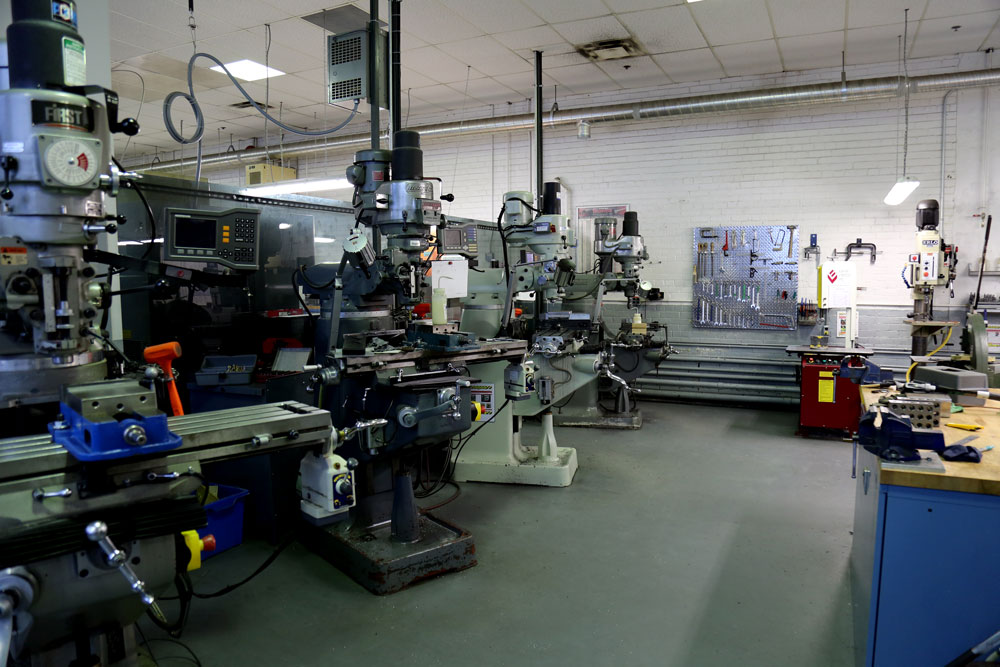 MIE's machine shop houses state-of-the-art equipment and provides technical services for U of T Engineering students and faculty.
All U of T Engineering students and researchers have access to use the machine shop facilities for projects related to U of T academic activities or student clubs. Users must pass a basic machining course and meet other requirements (jump to Access Requirements).
The Machine Shop technicians also provide professional services to support faculty and student research at MIE and the wider U of T community including design consultation, precision machining, fitting and assembly of prototypes and custom-designed parts. Note that machine shop staff do not take on contract work for corporations, private individuals, alumni or small businesses.
Location & Hours of Operation
The Machine Shop is located at MC 78, on the lower level of the Mechanical Engineering building, Room 78, 5 King's College Road.
Machine Shop hours may vary during exam periods and special occasions. Check MC78 entrance-way for updated hours. Shop may be closed for lunch (12-12:45 pm) and dinner breaks (5-5:45 pm).
During academic year
Monday to Friday:
8 am - 9 pm
Saturday:
9 am - 4:30 pm
Sunday:
Closed
May - June
Monday to Friday:
8 am - 4 pm
Weekends:
Closed
July - August
Monday to Friday:
8 am - 3:30 pm
Weekends:
Closed
Contact
Tel: 416-946-3358
Email:
Assistance and consultation
Bridgeport Milling Machines
Drill Presses
Hand tools
Hardinge Lathes
Sheet metal sheer, hole punches and bending machines
Milling cutter and Lathe tool bit kits
Vertical Bandsaw and Cutoff Saws
Workbenches and Vices
U of T Engineering undergraduate students: Covered by departmental Chair's Office
MIE graduate students: Covered by MIE Chair's Office
Non-MIE engineering graduate students and researchers: $25/hour, covered by your professor or supervisor. The Student Shop Charge Authorization Form must be signed and submitted before an access pass will be issued.
Applicants requesting access to the Student Machine Shop must:
be a researcher, undergraduate (including those on PEY) or graduate student of U of T's Faculty of Applied Science & Engineering.
pass a 2-day hands-on introductory Basic Machining course offered by George Brown College to U of T students, which is offered approximately 15 times per year. There is a non-refundable fee of $160 for the course. See upcoming courses on the Events Calendar.
pass MIE's free online general safety course. To register, contact safetycourse@mie.utoronto.ca
review the Student Shop Safety Manual, training documents for proper use of equipment and shop rules (see documents and rules below)
After all above requirements have been met, applicants must:
sign up outside MC78 for a free safety seminar about how to safely operate the Student Shop's machines and shop rules. The seminar is followed by a short test. 
If all above requirements have been met, the applicant goes to the Student Machine Shop to complete their registration. If approved, access to the Student Machine Shop will be granted for the remainder of the academic year until August 31.
To continue to have access to the Student Machine Shop each academic year, students must complete a free annual online refresher safety course. To register, contact safetycourse@mie.utoronto.ca Note that students do not need to complete the Basic Machining course each year - students only need to pass the course once.
Student Shop Training Documents & Rules
3D Printing
3D Scanning
Brazing
CMM Arm
CNC Brake Press
CNC Lathe
CNC Milling
CNC Programming
Electro-Discharge Machining (EDM)
Fitting/Assembly
Laser Cutting (Non-metals)
Manual Machining
Optical Comparator
Sandblasting
Surface Grinding
Waterjet Cutting
Welding
Outsourced services:
Anodizing
Cylindrical Grinding
Heat Treatment
Laser Cutting (Metals)
Rolling/Forming
Welding
Rates for professional services
MIE faculty and students: $62.50/hour
Other U of T departments: $72.50/hour
3D printing: 1 hour set up charge + $5/cubic inch of material
Request professional services
Submit quotation request and files to Machine Shop Manager Ryan Mendell ryan@mie.utoronto.ca. Accepted drawings and file types are

Machined components:

engineering 3 view drawings (computer generated or by hand) OR CAD files (.sldprt, .slddrw, .Iges, .dwg, .dxf, .step) and all necessary supplementary component drawings. Do not send .stl files for machined components drawings.

3D printing: .stl files

If proper drawings are submitted, a quotation will be provided

If unable to produce proper drawings, contact Ryan to arrange a consultation meeting

If you would like to proceed with the work based on the quotation, complete the Professional Services payment form and email to ryan@mie.utoronto.ca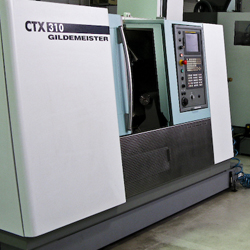 CTX 310 Glidemeister CNC Lathe
14.5″ swing by 17.5″ between centres
6,000 rpm spindle
12 position tool turret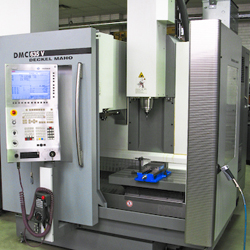 DMC 635 Deckel Maho CNC Vertical Machining Centre
24″ x-axis travel by 20″ y-axis travel by 19″ z-axis travel
8,000 rpm spindle
20 tool Automatic Tool Changer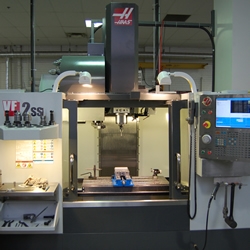 HAAS VF-2 SS Vertical Machining Centre
30″ x axis travel
16″ y axis travel
20″ z axis travel
12,000rpm
24+1 tool changer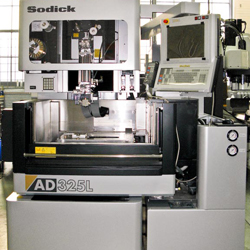 Sodick AD325L CNC Wire EDM
12.5″ x-axis travel by 9.5″ y-axis travel by 8.5″ z-axis travel
wire size of 0.006″ to 0.012″
15 degree per side taper cutting
0.1um resolution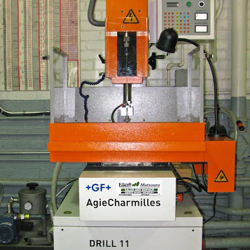 Agie Charmilles Drill 11 NC EDM Hole Driller
12″ x-axis travel by 8″ y-axis travel by 12″ z-axis travel
drill sizes from 0.006″(0.15mm) to 0.125″(3mm)
can drill up to depth of 200 x (electrode diameter)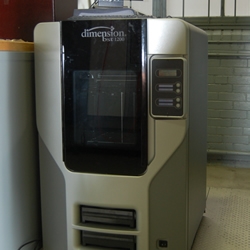 Dimension 3D Printer x 2
10″ x 10″ x 12″ Work Envelope
ABS Plastic
0.010″ layer thickness
SST model has solube support material
BST model has break away support material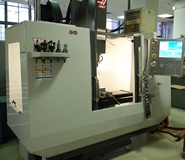 Haas TM-1 CNC Tool Room Mill
30″ x axis travel
12″ y axis travel
16″ z axis travel
4,000 rpm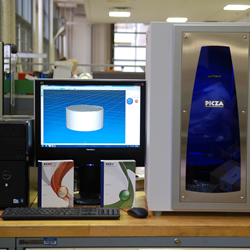 Roland 3D scanner
10″ dia x 16″ H – Work Envelope
0.004″ scan resolution
rotational and planer scanning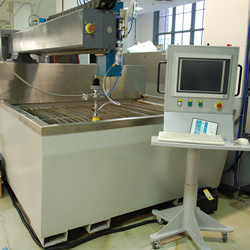 Flow Mach 2 CNC Waterjet
52″ x 52″ Work Envelope
55,000 psi pump
Material thickness up to 7″ on slats, 30″ with custom fixture
Cuts any material except tempered glass
Equipped with Flow ultra pierce vacuum assist for chip free start holes in brittle materials