What is Capstone?
---
An experience in engineering practice through a significant design project whereby student teams meet specific client needs through a creative, iterative, and open-ended design process. Capstone Design (MIE490/MIE491) is taken in the fourth year of study for both fall and winter sessions.
The project must include:
The application of disciplinary knowledge and skills to conduct engineering analysis and design.
The demonstration of engineering judgment in integrating economic, health, safety, environmental, social or other pertinent interdisciplinary factors.
Elements of teamwork, project management and Client interaction.
A demonstration of proof of the design concept.
---
MIE Capstone Design Projects: 2020-2021: A collection of this year's MIE fourth-year students' innovative solutions to real-world problems.
---
Some Unique Characteristics of Capstone
---
No new content (i.e., no class meetings)
All work completed in a team
Long periods of independent work
Regular meetings with Supervisor
Industry client plays an active role
Emphasis on technical and non-technical graduate attributes (including communication)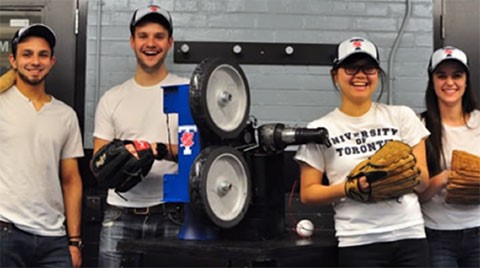 Students designed a machine to throw a knuckleball, a skill that can take baseball pitchers years to learn.
Types of Capstone Projects
---
Standard
---
Sourced by Capstone Coordinators and Faculty Supervisors
Supervised by a single MIE faculty member
Matched to students in mid-August
Student-sourced
---
Sourced by students through PEY, ESIP employer or other industry contact
Supervised by a single MIE faculty member
Can be matched to students before August
Sourcing student may form his/her own team and request a Supervisor
Multi-disciplinary
---
Sourced by MCP Coordinator (Kamran Behdinan) and capstone coordinators across faculty
Require 3-5 team members from at least two disciplines
Supervised by a single APSc faulty member with disciplinary subject-matter experts
Have an accelerated self-selection and matching process
May require a competitive interview
International
---
Sourced by International Capstone coordinator (Kamran Behdinan)
University partners from Peking and Shanghai Jiao Tong Universities
Require a competitive interview
Follow a modified deliverable schedule
Check your U of T e-mail regularly, starting in mid-August
Information and Contact
---
Blackboard Capstone Organization site
Portal: Community: Browse Blackboard Catalog:
Enter "MIE 490" or "MIE 491"
Contact Email: [capstone@mie.utoronto.ca]
Capstone Coordinators
MIE491 (MEC): Prof. Behdinan [behdinan@mie.utoronto.ca]
MIE490 (IND): Prof. Aleman [aleman@mie.utoronto.ca]