March 22, 2016 — Haya Elaraby (Year 3 IndE) and Katherine Lonergan (Year 3 MechE) are among 10 recipients of the Ontario Professional Engineers Foundation for Education scholarship.
On Tuesday, March 15, members of the Foundation presented two admission scholarships and eight in-course scholarships totalling $15,000 to students at a reception held in the Bahen Centre for Information Technology.
"We are honoured to be able to give 10 scholarships this year to U of T Engineering students," said Marisa Sterling (ChemE 9T1), president of the Foundation. "The Foundation was created to ensure that students are getting the financial assistance they need and we've been fortunate to sustain it. The scholarship money and the commitment to student success is coming from the over 80,000 professional engineers in Ontario to further the profession."
Professional Engineers Ontario (PEO) established the Foundation in 1959. Today, it is managed by an independent board of directors comprised of staff and engineer members of both PEO and the Ontario Society of Professional Engineers (OSPE). Over the past 56 years, the Foundation has contributed over $2.6 million of student funding to more than 3,000 engineering students in Ontario.
Professor Brenda McCabe (CivE), chair of the Scholarships and Awards Committee at U of T Engineering, said that presenting students with scholarships is a highlight of her committee work.
"But it wouldn't be possible without the support of organizations like the Foundation, PEO and OSPE that come together to help students both professionally and financially," McCabe said.
Haya Elaraby (Year 3 IndE)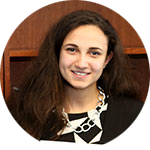 Haya Elaraby is a third-year industrial engineering student who is minoring in bioengineering. Last summer, she held a research assistant position at U of T. Since second year, she has been actively involved in AIESEC. She is currently mentoring first-year students as a peer-assisted study session leader and is volunteering as an MIE Ambassador. She aspires to use her engineering background to make a positive impact on society.
Katherine Lonergan (Year 3 MechE)
Katherine Lonergan is in her penultimate year of mechanical engineering. She has been very involved throughout her university career, competing with both the Varsity Blues volleyball team and University of Toronto Track Club, as well as chairing the Council of Athletics + Recreation, directing Blues Engineering, and working as an NSERC research student and T.A. mentor. She hopes to graduate with a minor in sustainable energy, and pursue a career in a fast-paced, multidisciplinary field.