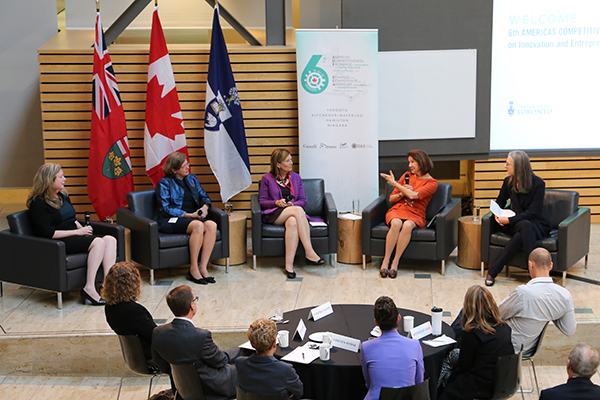 September 30, 2016 — Creating solutions to pressing global challenges — from clean water, to renewable energy, to health care innovations — requires a plurality of perspectives, delegates at the sixth Americas Competitiveness Exchange (ACE) heard Tuesday.
A panel of experts discussed strategies to promote, encourage and support gender and cultural diversity in science, technology, engineering and mathematics (STEM) disciplines and entrepreneurship.
"Diversity drives innovation, enhances the student experience and enriches the engineering profession with different perspectives and ideas," said Cristina Amon, Dean of the Faculty of Applied Science & Engineering and a panellist at the event. "I believe mentorship plays an essential role: we need to open doors, to create opportunities and networks for both women and men to first study STEM, and later to thrive in these professions."
Shaping the next generation of robotics
U of T Engineering showcased its critical mass of expertise in robotics, mechatronics and automation as part of three panels and demonstrations on the topics. Professors Goldie Nejat (MIE) and Tim Barfoot (UTIAS) joined Richard Zemel and Raquel Urtasun of the Department of Computer Science, and Elissa Strome of the Southern Ontario Smart Computing Innovation Platform to discuss the intersection of machine learning, big data and robotics.
"Traditionally robots have been found in factories, where they do one job," said Nejat. "We're looking at bringing robots out of the factory and into people's homes … by 2050, there will be a robot in every home."
Nejat and her team demonstrated two of the assistive robots her lab is developing, Tangy and Casper, to help aging populations manage daily tasks in the home and provide cognitive stimulation. Tangy led a group of graduate students in a game of BINGO, calling out the numbers, evaluating the winning card, and celebrating with the winner by playing music and congratulating him.
The ACE delegates then walked to the University of Toronto's Back Campus field to take in an aerial robotics demonstration by Professor Hugh Liu (UTIAS). Liu's group debuted a new flight algorithm, in which 20 drones flew in perfect synchronization, forming a cube and rotating in midair.