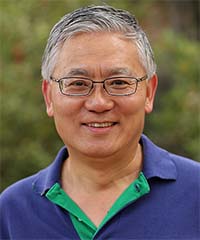 Shumin Zhai (MIE PhD 9T5) was recently honoured at the Engineering Alumni Network (EAN) Awards with a place in the Hall of Distinction. The Hall of Distinction recognizes Engineering alumni whose lifelong achievements ultimately define what is most exemplary in Engineering graduates and our profession. Zhai, now a Principal Scientist at Google, has had a remarkable career making huge contributions to theoretical understandings of human-computer interaction as well as broadly deployed user interface designs and product innovations.
Zhai grew up in Northwest China's Gansu province. He has always been interested in building things and how they work, and with the support of his father who was also an engineer, he began making things like microphones, alarms, and radios from a young age. He went on to complete both his undergraduate and graduate degrees at Xidian University, a rare accomplishment in the early 1980s China, since the Cultural Revolution had made higher education inaccessible from 1966 to 1976. This meant ten years of individuals seeking higher education were applying at the same time as Zhai. After graduating, he began his career as a teacher and researcher at that same university. After a few years, Zhai decided he was ready to expand his research at a world-class institution which led him to the University of Toronto.
Zhai joined what was then the Department of Industrial Engineering in 1989, where he completed his doctorate under the supervision of Professor Paul Milgram. During his time at U of T, he learned how to apply a scientific or mathematical/statistical approach to problem-solving which allowed him to bring his creative ideas to life. Zhai credits his time at U of T for providing him with the knowledge required (human factors principles in memory, learning, and motor skills) to come up with the hypothesis for "shape writing", laying the basis for the gesturing typing technology that can now be found on almost every smartphone. The core problem-solving principles he learned at U of T now guide the work Zhai does every day at Google.
"In addition to the incontestable accolades about Shumin's brilliance, industriousness, perspicacity and so forth, I would not want it to be forgotten that he is a truly superb human being, who cares very deeply about his fellow human beings and strives continually to make the world around him a better place," Professor Paul Milgram said in response to Zhai being honoured with a place in the Hall of Distinction.
After moving on from U of T, Zhai joined the IBM Almaden Research Center where he stayed for 15 years. It was here Zhai developed the first iteration of "shape writing". Today, as a Principal Scientist at Google, Zhai works on the invention, design, research, and production of user interfaces, particularly for modern smartphones. He also regularly publishes academic papers on his work in the scientific literature.
"The University of Toronto played a pivotal role in launching my research and innovation career. It is truly a place where great minds meet," says Zhai, "I continue to draw strength from my Toronto roots. My advisors, professors, and fellow graduate students are among my dearest friends today."
The U of T Engineering community is made up of many extraordinary alumni. Learn more about this year's EAN Award Winners and listen to Shumin Zhai speak about his career in this short video.