Eleven outstanding members of the U of T Engineering community were recognized Nov. 5 at the 2020 Engineering Alumni Network (EAN) Awards.
The evening awards ceremony, held virtually this year, celebrated alumni and students for their accomplishments and their contributions to the Skule™ community
"The Faculty has just been amazing in its resilience, and tonight's winners really embody that spirit," said Dean Christopher Yip. "You illustrate the role that engineers can play in meeting the world's most daunting challenges."
"When I came to Toronto from Hong Kong in the late 1980s, I didn't know that getting an engineering degree from U of T would set me up for a lifetime of success, but it has," said Allen Lau (ElecE 9T1, ECE MASc 9T2), one of this year's winners of the Engineering Alumni Hall of Distinction Award. "I call on my fellow engineering alumni to think about how the training and skills you've gained at U of T can improve business, society, diversity and equity in the city and country we call home."
The recipients from the MIE community were:
Engineering Alumni Hall of Distinction Award
The Hall of Distinction is an assembly of extraordinary alumni, selected for membership by their peers for their exemplary accomplishments. These are graduates whose performances have ultimately defined what is most outstanding in our graduates and in our profession. The careers of the members stand as examples and add a sense of reality to the aspirations of successive generations of U of T Engineering students.
Shumin Zhai (MIE PhD 9T5) is a Principal Scientist at Google where he leads and directs research, design, and development of input systems, interaction methods, and mobile haptics. His past research career has contributed to theoretical models and understandings of human-computer interaction as well as broadly deployed practical user interface designs and product innovations.
He originated and led the SHARK/ShapeWriter project at IBM Research and a start-up company that pioneered the swipe typing keyboard paradigm. His academic publications have won the ACM UIST Lasting Impact Award and a IEEE Computer Society Best Paper Award, among others. He served as the 4th Editor-in-Chief of ACM Transactions on Computer-Human Interaction. He received his Ph.D. degree at the University of Toronto in 1995. In 2006, he was selected as one of ACM's inaugural class of Distinguished Scientists. In 2010 he was named Member of the CHI Academy and a Fellow of the ACM.
Learn more about Shumin Zhai (video)
Malcolm F. McGrath Alumni Achievement Award
Named in honour of Malcolm McGrath on his retirement as assistant dean — alumni liaison, this award recognizes contributions of personal service to the Faculty, the University or to the community. McGrath was the first assistant dean responsible for alumni affairs and development in the Faculty. Among his many accomplishments are the growth of the Annual Fund, the Engineering Open House, the introduction of the Skule™ Stage Band, and the establishment of the Graditude Campaign.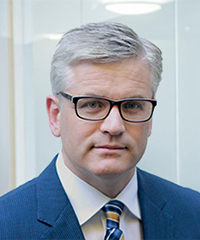 Eric Matusiak (MechE 9T1) is an experienced consultant with a passion for retail and the broader consumer business sector. He has over 20 years of consulting to leading retailers in North America across multiple formats including department stores, specialty apparel, footwear and mass merchandise.  He has worked across all departments and functions from store to back office, enabling him to address client challenges and opportunities from multiple perspectives.
As the National Retail Industry Leader at BDO, Eric leads a group of retail and IT professionals who implement ERP, POS, BI and other retail technologies that enrich consumers' experiences and improve retailers' business results. Eric also advises retailers on technology strategy and helps organizations manage the process and organizational components of their business to ensure that technologies align to business strategy.
Based in Toronto, Eric is a member of the Retail Council of Canada, an alumni board and committee member at the University of Toronto and alumni mentor at the Richard Ivey School of Business.
Learn more about Eric Matusiak (video)
Honourary Member of the EAN
Acknowledges the exceptional contributions of an individual who is not a member of the EAN but has contributed in a very significant way to bettering the Faculty, the EAN and/or the lives of current or future members of the EAN.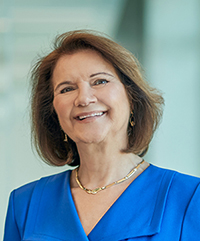 Cristina Amon is Alumni Distinguished Professor in Bioengineering and Dean Emerita at the University of Toronto's Faculty of Applied Science & Engineering. Under her leadership, Canada's #1 ranked engineering school has become a global hub for inter-disciplinary research and education known for its strategic Faculty-wide initiatives, cross-Faculty centres and institutes, and innovative undergraduate and graduate programming. Her commitment to outreach and diversity has set a new standard for Engineering schools worldwide: the number of women faculty members at U of T Engineering has doubled in the last decade and the Faculty celebrated an historic 40% women first-year undergraduate enrolment for its second consecutive year in 2017.
Prior to her deanship at U of T, Amon was the Raymond J. Lane Distinguished Professor of Mechanical Engineering and Director of the Institute for Complex Engineered Systems at Carnegie Mellon (until 2006). She received her master's and doctorate degrees from MIT in 1988. Her research pioneered multidisciplinary thermal designs and made ground-breaking innovations to transient thermal management, optimization algorithms for renewable energy, nanoscale transport in semiconductors and biological systems. Her scholarly contributions are published in 16 book chapters and over 350 articles in education and research literature.
She has been inducted into the Canadian Academy of Engineering, Hispanic Engineer Hall of Fame, National Academy of Engineering, Royal Academy of Spain and Royal Society of Canada, and elected fellow of all major professional societies in her fields. Additional accolades include the ASEE Westinghouse Medal, ASME Heat Transfer Memorial Award and SWE Achievement Award, the highest honour.
Professor Amon received the Engineers Canada Award for the Support of Women in 2010, was named one of the YWCA's Women of Distinction in 2011 and one of Canada's 25 Most Influential Women in 2012, and received the Ontario Professional Engineers Gold Medal in 2015 – the most prestigious honour for engineering public service, technical excellence and professional leadership.
Learn more about Cristina Amon (video)
View all of the award recipients in the full article published on the University of Toronto's Faculty of Applied Science and Engineering News Site.
– This story was originally published on the University of Toronto's Faculty of Applied Science and Engineering News Site on November 6, 2020 by Engineering Strategic Communications