April 18, 2016 — Mentoring a student startup, joining a departmental advisory board or becoming a global ambassador for U of T Engineering are just a few ways alumni are volunteering their time and expertise to Skule™.
Alumni volunteers also benefit in a number of ways. Volunteering provides an opportunity to expand their professional networks, gain access to world-leading researchers and laboratories, and make a difference in the lives of students.
In celebration of National Volunteering Week, we shine a spotlight on seven alumni who have made remarkable volunteer contributions to their alma mater.
Tom Woods (IndE 7T5)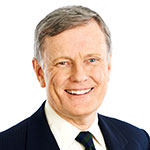 Former CFO and CRO, CIBC
Volunteerism:
Member, Department of Mechanical and Industrial Engineering Board of Advisors
Why is volunteering at your alma mater important to you?
I feel it's important to give back; the four years I had at U of T Engineering had a huge impact in preparing me for my career in banking. I am also interested in staying current on recent advances in technology.
Describe one of the most rewarding volunteer experiences you've had at U of T Engineering?
As part of the Department of Mechanical & Industrial Engineering Board of Advisors, we get exposure to professors and students who present some of their research work. Two memorable examples were the use of robots being developed to supplement the work of personal support workers, and the design of a system for the optimal placement of defibrillators in the city.
What advice do you have for alumni who are thinking about volunteering at U of T Engineering?
Become active in your alumni class activities and attend school-sponsored presentations. Ask how you can help and describe what your interests are, be it fundraising, industry relations or student mentoring. Support the Faculty financially. And be sure to keep the school up to date on your address changes!