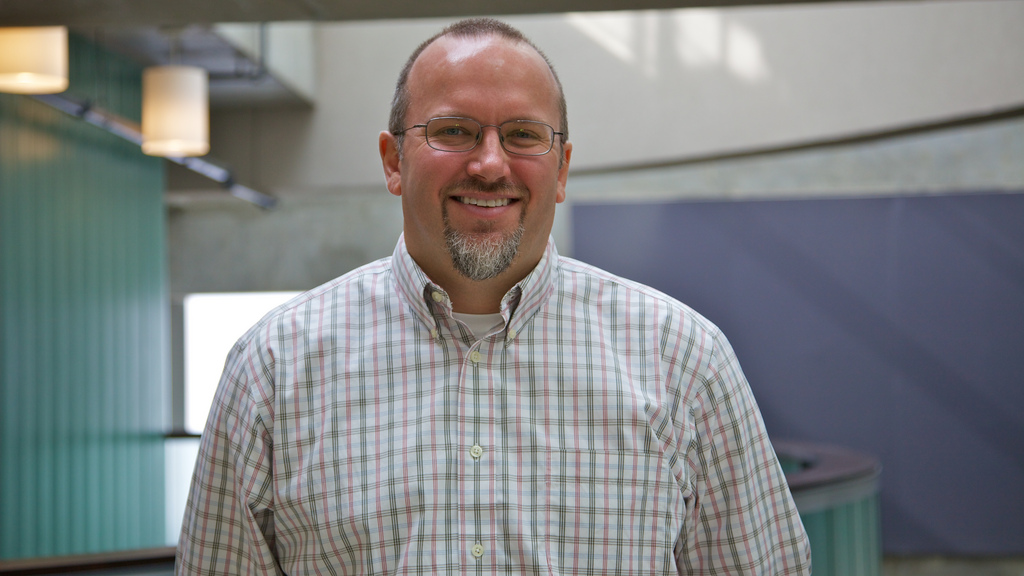 August 4, 2015 — University of Toronto Engineering Professor Craig Simmons (MIE, IBBME) has been appointed scientific director of the new Translational Biology and Engineering Program (TBEP), a unique interdisciplinary research initiative that will bring together leading experts in engineering and medicine to advance discoveries and accelerate new treatments for cardiovascular disease.
"Craig Simmons' international reputation as a leading researcher in stem cell mechanobiology and tissue engineering, as well as his outstanding record in academic administration, make him an excellent choice for this key leadership role," said U of T Engineering Dean Cristina Amon. "I am delighted Craig will be heading this visionary collaboration, which will leverage and advance our Faculty's expertise and accelerate innovations in new therapies to improve the lives of cardiac patients."
TBEP is a key component of the Ted Rogers Centre for Heart Research (TRCHR), which was created in November 2014 thanks to an unprecedented $130 million gift from the Rogers family and is uniting research expertise from the University of Toronto, the Hospital for Sick Children and the University Health Network to reduce heart failure. TBEP will house researchers from the Institute of Biomaterials and Biomedical Engineering (IBBME), the departments of Mechanical & Industrial Engineering (MIE), Physiology and Laboratory Medicine & Pathobiology, The Edward S. Rogers Sr. Department of Electrical & Computer Engineering (ECE), as well as the Faculty of Dentistry. The program will combine stem cell technologies with cellular and tissue engineering techniques, cell signalling, experimental platform development and clinical research in heart regeneration.
"The strength of TBEP comes from its interdisciplinary approach to research. Craig — who trained in mechanical and bioengineering — embodies this. He will bring both passion and foresight to this important role," said Professor Trevor Young, Dean of the Faculty of Medicine and Vice Provost, Relations with Health Care Institutions.
Simmons, who is Canada Research Chair in Mechanobiology, said it is a great honour and opportunity to take on this new position.
"The Ted Rogers Centre for Heart Research will transform how heart disease is treated and advance Toronto's position as a global leader in this field," he said. "TBEP will contribute significantly to its mission by nurturing discoveries and innovations that can come only through close collaboration between engineers, scientists and clinicians."
According to Simmons, the resources and collaborative opportunities at TBEP and across the TRCHR will yield novel insights into cardiovascular disease, lead to the development of new technologies, and ultimately bring better therapies to patients more quickly. Research at TBEP will focus on three key areas:
discovery in cardiovascular development, disease initiation and repair;
determination of molecular signatures or biomarkers for early detection and management of cardiovascular disease; and
regeneration of cardiovascular tissues using molecules, cells and materials.
Simmons began his five-year term on July 1, 2015. The Faculty extends its sincere gratitude to Professor Peter Zandstra (IBBME), who completes his term as interim scientific director of TBEP. Under Zandstra's leadership, TBEP has established a solid foundation on which Simmons will build in the coming years.
Other U of T Engineering faculty who are joining TBEP include Hai-Ling Margaret Cheng (ECE, IBBME), Rodrigo Fernandez-Gonzalez (IBBME) and Paul Santerre(IBBME, Dentistry). TBEP will occupy an entire floor of the MaRS Phase 2 building in Toronto's Discovery District beginning in fall 2015.