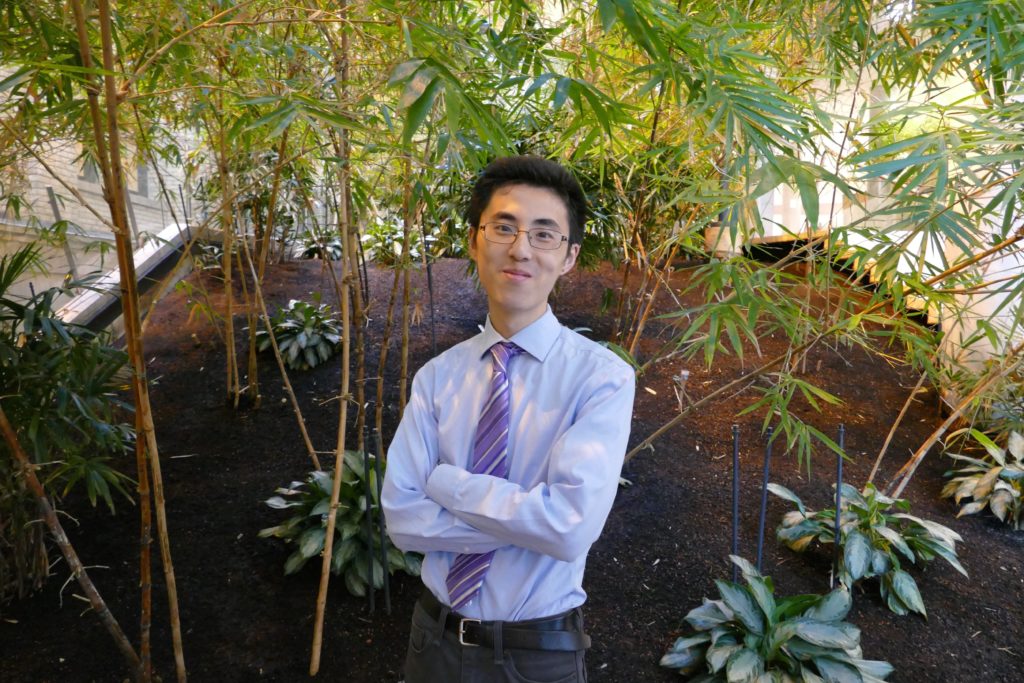 Zhenglin Liu's (MechE 1T9+PEY) plans after graduating were changed as the COVID-19 pandemic continues to limit travel and in-person learning opportunities. Instead of heading to Cambridge University to begin a master's program last fall, Zhenglin found himself taking on the role of a legislative intern for MP Taylor Bachrach. As a 2020 recipient of a UTSLA (University of Toronto Student Leadership Award), we were excited to catch up with Zhenglin and hear what he's been up to since graduating at last week's virtual celebration for 2020 and 2021 award recipients.
You may already know Zhenglin from his time at MIE – he was involved in quite a few student groups, for example serving as co-president of U of T Environmental Action (UTEA), Sustainability Commissioner for the U of T Students' Union, and editor of the Cannon newspaper. He was also responsible for re-starting the Skule Choir. As you can see, he doesn't shy away from getting involved in the communities that interest him.
"I ended up deferring my plans for graduate school for a year because of the pandemic," said Zhenglin, "so I was fortunate to learn about this internship coordinated by GreenPAC, a non-profit that works to elect environmental leaders at the federal and provincial levels."
Through its Parliamentary Internship for the Environment program, GreenPAC places interns with environmentally focused MPs they endorse. Zhenglin was matched with MP Taylor Bachrach (Skeena-Bulkley Valley, BC), the NDP critic for Infrastructure, Communities, and Transport, because of his relevant technical background, and has been a part of the MP's team since September 2020.
Zhenglin has a wide-range of responsibilities within the MP's legislative team. He helps to research the experts and stakeholders who present to the House of Commons committees on Environment and Transport, conducts data analysis projects, advises on the science and technology aspects of climate policy issues, and much more.
"My training as an engineer has definitely been useful in this position. Skills from my engineering design courses have been helpful engaging with stakeholders, for example, while MIE507 and 515 both speak to high-profile avenues of climate action in the infrastructure sector," he said, "and MIE258 played a big part in making me the excel power-user I am today, so don't discount that class!"
Zhenglin's internship position will wrap up in June and he will continue on with his graduate education at Cambridge in the Fall. He will begin the MPhil Environmental Policy program, which focuses on law and economics, at the university's Clare College.
Afterwards, Zhenglin hopes to build on his experiences so far by working for the federal public service in a climate-related role, whether at Environment and Climate Change Canada or another relevant department such as Natural Resources Canada or Infrastructure Canada. He may even find himself back at U of T to begin law school (where he holds a deferred offer) in order to pursue public interest environmental law.
Zhenglin is happy to connect through LinkedIn in to talk to other students who are interested in policy or who might consider applying for the internship when they graduate.
We want to get to know you! Do you have a story to share with the MIE community? Reach out to newsletter@mie.utoronto.ca to be featured in the Community Spotlight.