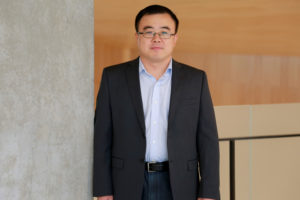 Professor Xinyu Liu has been named Fellow of the American Society of Mechanical Engineers (ASME). This distinction is given to ASME members who are nominated by their peers for recognition of their outstanding engineering achievements.
Liu is an Associate Professor of Mechanical Engineering and the Principle Investigator in the Microfluidics and BioMEMS Lab. His research interests are at the interfaces of microfluidics, bioMEMS (bio-microelectromechanical systems), and robotics. His research group is developing integrated micro/nanodevices and systems to target a variety of exciting applications in biology, medicine, and environment.
He is also the recipient of the 2012 Rising Star in Global Health Award from Grand Challenge Canada, the 2012 Douglas R. Colton Metal for Research Excellence from CMC Microsystems, the 2013 Award of Excellence for Basic Science Research from the McGill Surgery Department, the 2017 Christophe Pierre Award for Research Excellence (Early Career) from McGill Faculty of Engineering, and seven Best Paper Awards at major engineering and biomedical conferences.
-Published January 21, 2021 by Lynsey Mellon, lynsey@mie.utoronto.ca