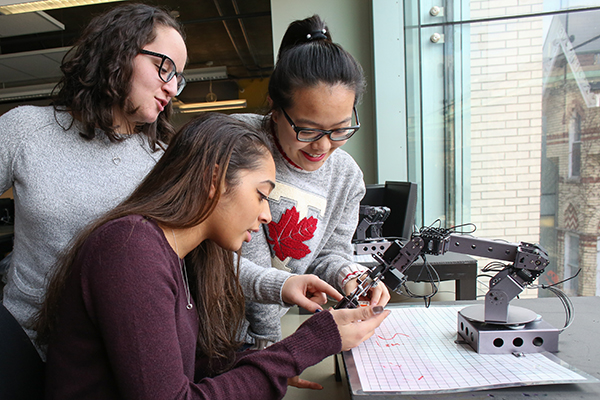 December 8, 2016 – In 2018, Canada will issue a new $10 banknote bearing the likeness of Viola Desmond, a businesswoman and black civil-rights activist. Joining her on the shortlist was Elsie MacGill(ElecE 2T7), Canada's first female electrical engineering graduate, and the world's first woman aircraft designer.
This fall, hundreds of aspiring female engineers chose to follow in MacGill's footsteps by joining U of T Engineering. The proportion of women in its first-year class is now 40.1 per cent, the highest figure among Ontario engineering programs. This brings the overall proportion of women across all undergraduate programs over 30 per cent.
The achievement is just one reflection of the Faculty of Applied Science & Engineering's broad commitment to enriching diversity — in all its forms — within the engineering profession.
"Diversity accelerates innovation, enhances the student experience and enriches the profession with different perspectives and ideas," said Dean Cristina Amon. "In the Faculty of Applied Science & Engineering, we are deeply invested in advancing diversity and fostering inclusivity within Engineering and beyond. These numbers show our tremendous progress, but there remains work to be done."
"Currently, less than 12 per cent of practising licensed engineers in Canada are women," said Kim Allen, CEO of Engineers Canada. "U of T Engineering is helping move the profession toward our shared '30 by 30' objective of 30 per cent female representation among newly licensed engineers by 2030. Diversity strengthens our profession, and empowers us to create meaningful solutions to the complex problems we face today and in the decades to come."
Driving that diversification in U of T Engineering are events such as the Girls Leadership Experience in Engineering (GLEE) and the Young Women in Engineering Symposium (YWIES), which inspire girls as they learn more about the impact they can make as engineers, in fields from sustainable energy to health care. Each year the Faculty engages more than 7,000 elementary and secondary school students, about half of whom are girls, with innovative outreach programming on our campus. U of T Engineering undergraduate students, including members of the Engineering Society's Hi-Skule outreach group and Women in Science and Engineering (WISE), also visit schools throughout the province. These STEM ambassadors lead students in immersive workshops on engineering topics, acting as mentors and sharing the boundless possibilities of an engineering education with children of all backgrounds.
Fourteen new professors — including nine women — recently joined the faculty, bringing with them experience from some of the world's top research laboratories, such as Cambridge, Carnegie Mellon and MIT. Many hold academic appointments in more than one department, and will work on a range of cross-disciplinary challenges, from smart cities and infrastructure to next-generation devices for medical diagnostics and imaging.