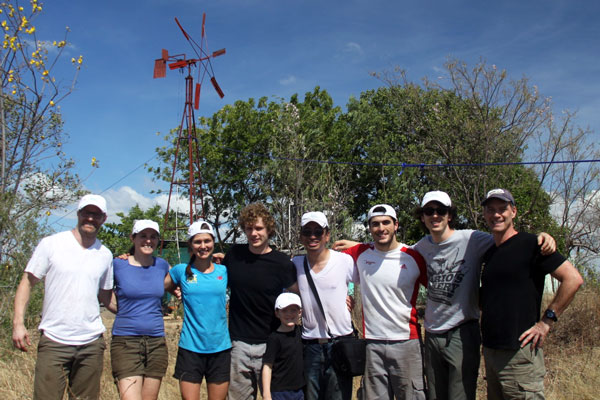 January 26, 2016 — U of T engineers have partnered with residents of Pedro Arauz, Nicaragua to design and construct a water-pumping windmill, providing critical irrigation during the area's long dry season.
The project was led by Professor Amy Bilton (MIE) and was part of MIE 491: Capstone Design, a fourth-year course in the Department of Mechanical & Industrial Engineering. Over the last two years, three different teams of undergraduate students have worked closely with members of the community as well as the Winds of Change initiative to make the windmill a reality.
The initial idea was sparked in February 2014 when two Canadians, engineer John Shoust and management consultant Rob Scott, travelled to Nicaragua on a volunteer trip. There they saw first-hand the need for a better method of irrigation.
"For six months of the year, the land basically goes dry," says Shoust. "Cattle literally drop dead from starvation and lack of water. If we could somehow find a fix for that dry season, it would have a huge impact on the community."
The area has plenty of groundwater and dug wells, but what is lacking is the technology to efficiently pump the water out of them. Hand pumps — currently the most widespread technology — are simply not powerful enough to produce the thousands of gallons of water required for crop irrigation. The use of diesel and electrical pumps is limited by a lack of infrastructure, high cost and difficulties with the importing of goods.
By contrast, wind pumps can be built and maintained using locally available materials, and the climate in Nicaragua is windy enough to provide the required energy. With this in mind, Shoust and Scott started the Winds of Change initiative and began searching for a team of engineers who could take on the project of designing a low-cost windmill for the people of Pedro Arauz.
"We sent out a message to a few universities, and U of T came back with the best proposal," says Shoust. "The Institute for Sustainable Energy and Professor Amy Bilton were extremely eager to get involved in the project."
When Bilton proposed the project in her fourth-year capstone design course, she was inundated with applications from students who wanted to participate. "It was definitely the project with the most social relevance, which I think is why so many teams were interested," says Kshitij Gupta (MIE 1T5), one of the first team members to work on the project.
Along with his teammates Akash Kumar, Tiffany Hu and Eleanor Li (all MIE 1T5), Gupta travelled to Nicaragua in October 2014. The team took wind speed measurements and consulted extensively with community members about their irrigation needs, as well as the resources they had. "What I remember the most was how enthusiastic the locals were about our project," says Li. "Everyone was very nice and they welcomed us with a cultural performance. It was rare for them to see anyone to go there and try to help them make a better life."
The team spent the next several months designing the windmill from scratch, using materials they knew would be accessible to the locals. One of the key questions was how to maximize power from the blades, and match it to a pump strong enough to provide adequate irrigation. In the end, they designed and built a prototype of a windmill that, when built at scale, could deliver 15 cubic metres of water every day.
Bilton and the Winds of Change team returned to Pedro Arauz a second time in the spring of 2015 and, with the help of community members, succeeded in digging a foundation for the windmill. Over the summer, she recruited two more teams of undergraduates to address a couple of outstanding design issues.
One team, consisting of James-Evan Boyce, Emma Bowman, Austin McLean, and Greg Pollieri (all Year 4 MIE) focused on creating a braking mechanism that could stop the windmill to perform maintenance, or shut it down if wind speeds rose dangerously high. The other, composed of Xingjian Gan, Grant Gruenspan, Gene Ortega, and Jikeon Yoo (all Year 4 MIE) refined the technical design of the pumping mechanism.
This month, five of the eight students accompanied Bilton on her third trip to Pedro Arauz. In collaboration with community members, the team built a windmill out of wire, sheet metal and PVC piping in four and a half days. "It pumped water for the first time just before we headed home, so students were really excited about that," she says.
For Bilton and the students, the project was an extremely valuable learning experience. "Challenges like this provide a really interesting engineering environment that requires a really inventive design," she says. However, she believes the key to making it all work was the participation of local residents in all stages of the process.
"From the beginning, it was student engineers working together with community members who provided great suggestions in terms the local practices and available resources," says Bilton. "Everyone was so kind and so welcoming. I think that was really what moved the students and helped motivate them as they worked on the project."