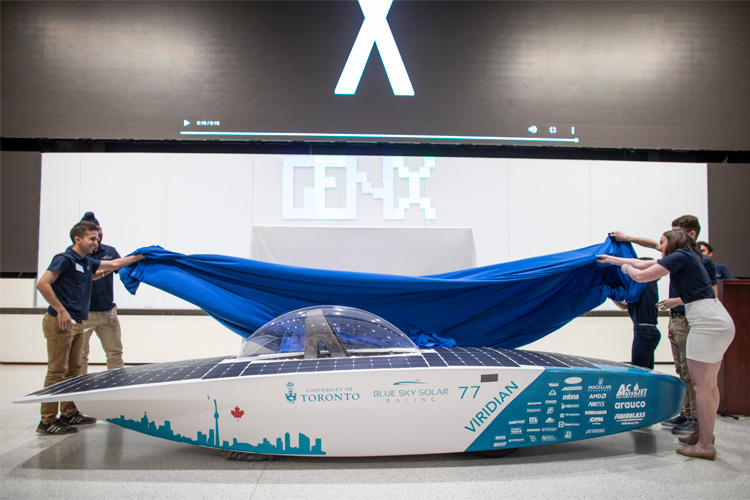 July 8, 2019 – The University of Toronto's Blue Sky Solar Racing Team, led by managing director and mechanical engineering student Hubaab K. Hussain, unveiled their latest solar vehicle Viridian at an event attended by media, faculty, staff and students.
Professor, and Blue Sky alumna, Amy Bilton and the Faculty of Applied Science & Engineering's new dean Professor Christopher Yip congratulated the team ahead of the reveal. Blue Sky team members lifted the blue cloth that covered Viridian, the 10th car built by the team in 23 years, as the room filled with applause.
In October, the team will travel to Australia to participate in a 3000 kilometre race from Darwin to Adelaide. "The team's objective is to promote and provide students with an opportunity to grow and develop themselves outside of the classroom as well as to promote sustainable technology through the building and designing and racing of solar-powered race cars," says Hussain.
The unveiling drew attention from media outlets, including Breakfast Television. Hussain was interviewed for the morning show and elaborated on the design of the car and the upcoming race.
Watch the Breakfast Television interview with Hussain:
Read more:
-by Pam Walls, pam@mie.utoronto.ca