Watch Shiksha's Industry Spotlight talk on the MIE Youtube Channel
Alumna Shiksha Rai (MechE 1T3 + PEY) spoke about her career trajectory – including positions at Bombardier, UPS and the University Health Network – at MIE's first Industry Spotlight talk of the 2019/20 academic year on Thursday, October 24, 2019.
Shiksha has used her engineering background to build a career in the healthcare system. She is currently a project manager at the University Health Network (UHN), responsible for saving the hospital millions annually. Prior to UHN, she was in the pharmaceutical industry working to streamline drug manufacturing processes to be compliant with international regulations. Shiksha is passionate about the impact of engineering on healthcare and is a co-developer of a low cost sleep apnea device.  At the talk, Shiksha spoke about how the healthcare industry is changing, and how engineering graduates can apply their own toolkit to help ensure a sustainable healthcare system.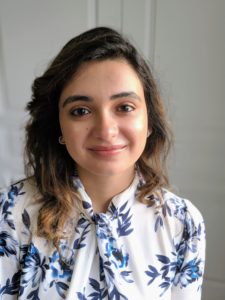 Shiksha is a Project Manager currently working at University Health Network (UHN). She has her Professional Engineer (P.Eng), Project Management Professional (PMP) and Lean Six Sigma Green Belt credentials. Her previous work experience includes Bombardier Aerospace, UPS Supply Chain Solutions and GlaxoSmithKline (GSK). She has her BASc in Mechanical Engineering from UofT (1T3 + PEY) and is working towards a graduate degree from Stanford in Management Science and Engineering.  Outside of work, she is a Zumba dance instructor at numerous GTA locations.
–Published November 8, 2019 by Pam Walls, pam@mie.utoronto.ca