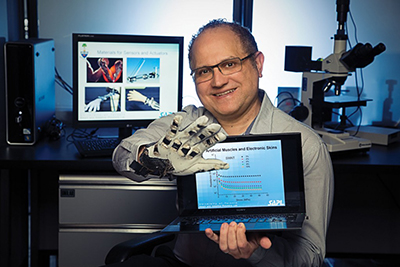 December 8, 2014 — We may soon be able to enable almost "life-like" mobility in prosthetics, thanks to significant research advances in smart materials at U of T.
Professor Hani Naguib (MIE / MSE) is a renowned engineer whose leading research in the area of smart and multi-functional materials has impacted a range of biomedical and industrial technologies. The joint-appointed faculty member in the departments of Mechanical & Industrial Engineering (MIE) and Materials Science & Engineering (MSE) was recognized for his sustained contributions to the field and inducted as a Fellow of the American Society of Mechanical Engineers (ASME) earlier this month.
Dr. Naguib's work looks at how to enable technologies to adapt and respond to various environments, ranging from applications in artificial muscles to smart textiles. Most recently, he and his colleagues have been developing prosthetic limb actuators and sensors that are built with shape memory materials and electro-active polymers, which may one day allow for persons who require these devices to have almost identical mobility as their biological counterparts. Professor Naguib's smart materials have also impacted advances in intelligent drug delivery systems, wearable electronics as well as energy storage and harvesting devices.
"The potential of smart materials opens a lot of new doors not only to improve our quality of life, but also to make a mark in our global sustainability efforts. These new polymers, alloys and composites can sense and respond to external stimuli such as temperature or pressure, while making use of green and recycled materials to meet a range of environmental protection and waste management requirements around the world," said Professor Naguib, whose international recognitions also include fellowships in the United Kingdom's Institute of Materials, Minerals & Mining (IOM3) and in the Canadian Society of Mechanical Engineering.
Founded in 1880, ASME is a not-for-profit organization that enables collaboration, knowledge sharing and skills development across all engineering disciplines. Its 140,000 members are located in over 150 countries and its 600 technical standards addressing safety and efficiency for a range of engineering applications are used in over 100 nations worldwide.
"Congratulations to Hani on this well-deserved recognition. His work has contributed significantly to the field of smart and functional polymeric materials," said Professor Jun Nogami, Chair of the Department of Materials Science & Engineering. "His work also shows the very close alignment between our Department and the Department of Mechanical and Industrial Engineering."