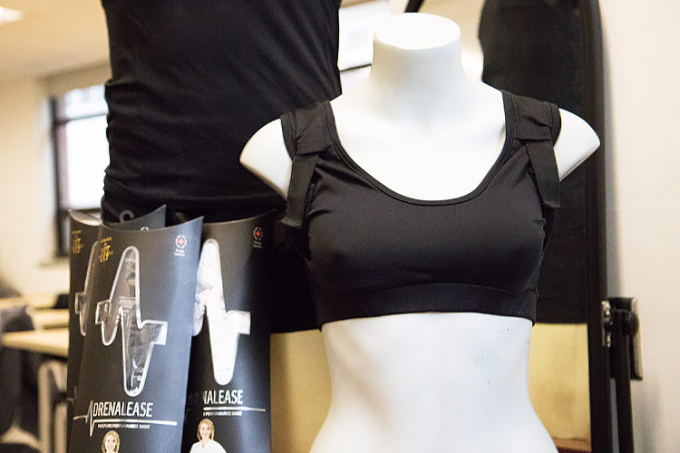 January 18, 2018 – Noureddin Chahrour's successful 2015 appearance on CBC's Dragon's Den was a key turning point for his research-based startup Adrenalease Posture Apparel – but not in the way you might think.
Chahrour, a University of Toronto alumnus, agreed on-air to hand over 30 per cent of Adrenalease, which makes posture-enhancing garments, in exchange for $90,000 from three of the program's panel members.
However, he later backed out of the deal after advisers at the Impact Centre, one of nine U of T entrepreneurship hubs, suggested he was selling himself short.
"They said I would be crazy to give up that kind of equity," says Chahrour, who received a bachelor's degree with honours in kinesiology two years ago.
"That's honestly not a lot of money. If you want to raise a real round [of funding], you're looking at $500,000-plus."
Fast forward two years and Chahrour is not only still in business, he's preparing to launch Adrenalease's latest product – a posture-enhancing sports bra – with the help of a Kickstarter campaign and MIE engineers.
Adrenalease's sports bra, like its previous T-shirt and tank top, is equipped with adjustable, Velcro straps that pull a user's shoulders back into an upright position, helping promote muscle memory and better posture. The design is based on research that shows better posture can help reduce stress and pain in the shoulder and neck area.
A successful launch of the sports bra promises to dramatically broaden the potential market for Adrenalease. But Chahrour and his team aren't planning to stop there. Bolstered by a $45,000 grant, they're now working with Professor Hani Naguib's lab to investigate the use of a smart plastic, which could conceivably allow future Adrenalease users to adjust the tension in their tops with a touch of a smartphone.