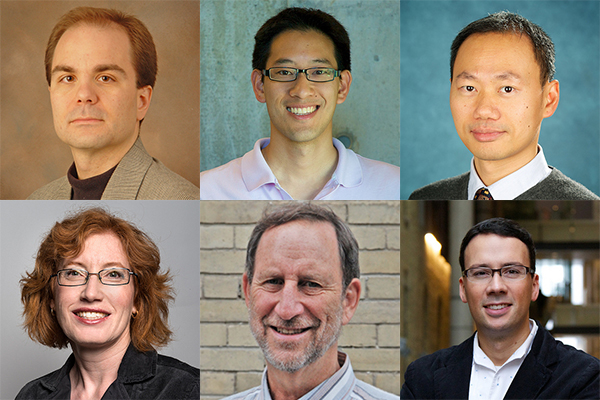 June 22, 2015 — Fifty-five researchers from U of T Engineering have received $12.7 million in research funding and scholarships awarded today by the Natural Sciences and Engineering Research Council of Canada (NSERC).
The awards comprise the 2015 competition results for NSERC's Discovery Grants, Discovery Accelerator Supplements, Discovery Development Grants, Alexander Graham Bell Canada Graduate Scholarships, Postgraduate Scholarships, Postdoctoral Fellowships and Research Tools and Instruments Grants. In total, NSERC announced $340 million in funding for more than 70 institutions across Canada.
"These awards reflect the excellence of our research programs and the outstanding contributions of our professors to Canada and to the world," said Professor Ted Sargent (ECE), U of T Engineering's vice-dean, research. "They will enable leading-edge innovation and advances in many sectors, from biomedical devices to information technology and sustainable resource extraction."
Of the 55 engineering professors included in the U of T investment, six received prestigious Discovery Accelerator Supplements. These awards are designed to maximize the impact of those researchers with programs that are highly rated in terms of originality and innovation, and who show strong potential to become international leaders.
The winners and their associated projects were:
Professor Christopher Beck (MIE) – Artificial intelligence planning and mathematical programming
Professor Timothy Chan (MIE) – Generalized inverse optimization with application to radiation therapy
Professor Ben Liang (ECE) – Integrated communication and computation resource management for mobile cloud computing
Professor Heather MacLean (CivE) – Development and application of novel life cycle-based framework: towards a sustainable aviation fuel strategy for Canada
Professor Paul Milgram (MIE) – Augmented displays for teleoperation
Professor David Sinton (MIE) – Nanofluidics for energy
With this recent announcement, the total amount of funding for research was $10.2 million. On the scholarship side, 34 engineering graduate students and post-doctoral fellows will share more than $2.5 million in support. Across the entire University of Toronto, the total amount of scholarship and research funding was $48.7 million.
"NSERC's Discovery Grants Program is our flagship. It invests in the full range of science and engineering disciplines and thus builds the strong foundation that is a necessary prerequisite for innovation," said B. Mario Pinto, president of NSERC. "We're building on its success with our Discovery Development Grants, because we want to take advantage of the full diversity of insights and ideas across Canada. Complementing our support for discovery research, NSERC's scholarships and fellowships invest in a new generation of talent and give these brilliant students and fellows the skills and experience to meet the challenges of the future."