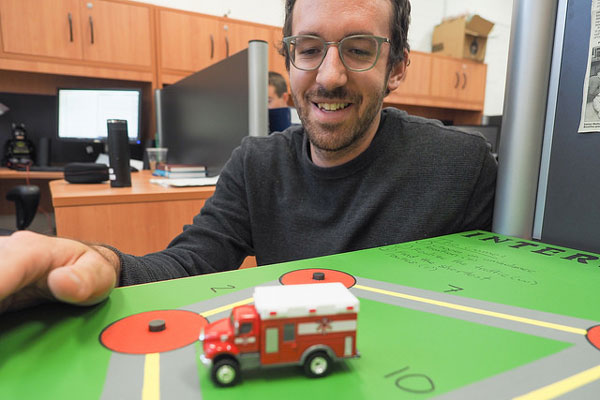 December 10, 2015 — For North Americans, it can be easy to take emergency medical services (EMS) for granted. But in Dhaka, the capital city of Bangladesh there is no EMS system, no centralized ambulances, and no 911 service. Justin Boutilier, a PhD candidate in industrial engineering working under the supervision of Professor Timothy Chan(MIE), hopes to close this health-services gap in developing countries.
In Toronto, simply calling 911 gets an ambulance to the scene in approximately six minutes. From there, the ambulance takes the fastest route to the hospital — sirens blaring — as cars on the road yield or move out of the way. In Dhaka, the 11th largest city in the world where the population is five times larger than Toronto's, the situation is very different.
In September, Boutilier spent three weeks in Dhaka working with local collaborators. Among his findings were the following:
34 per cent of patients took a rickshaw, 25 per cent took a CNG (a three-wheeled cab that runs on compressed natural gas), while only 8 per cent took an ambulance;
Ambulances are by far the most expensive method, costing anywhere between 500 to 5,000 Taka (BDT), which is approximately $9 to $87 CAD;
The average response time for ambulances is 60 to 80 minutes; and,
Some patients spent more than 5 hours to get to the hospital.
These results are alarming when considering that more than 33 per cent of deaths in developing countries are attributed to time-sensitive medical emergencies, from cardiac arrests to maternal or child health issues.
Boutilier and Chan, who holds the Canada Research Chair in Novel Optimization and Analytics in Health aim to vastly improve these numbers — and save lives — by optimizing emergency medical response.
"Our goal is to reduce ambulance response times by developing a software system leveraging existing infrastructure that optimizes ambulance pre-positioning locations, and provides real-time travel estimation and route optimization information to drivers," said Chan.
"Our research has two components: first, locate the ambulances throughout the city, and second, routing them to the patients," said Boutilier. "If the city of Dhaka is going to implement an ambulance service, where should these be stationed around the city, how many are needed, and what are the most effective routes?"
To find the answers, Boutilier and local collaborator Moinul Hossain, a traffic engineer and professor from Islamic University of Technology (IUT), collected data through a patient survey and created a GPS device with an android app to put into rental cars. They then had the cars drive around the city throughout the day in order to collect their locations and learn about the traffic patterns.
With traffic congestion being a constant issue in Dhaka, finding an optimized route is a big hurdle in Boutilier's research. "Once it took me three hours to drive 11 kilometres," said Boutilier. "Even if cars wanted to move out of the way [for an ambulance], there is no space to move aside."
That is why implementing a North American system in a developing country is not an option.
"Some people think, why can't you just use the existing system from North America and bring it there? But the challenge is the cultural differences. A lot of the assumptions we make in North America are not valid there," explained Boutilier. "For example, it is not the norm to yield for ambulances, a common assumption that allows ambulances to quickly reach the scene in North America."
"Because people are not able move out of the way, location actually becomes more important because you want to avoid really busy roads and route accordingly," said Chan.
With these kinds of challenges, Boutilier and Chan are focusing on the policy side of the Dhaka ambulance system. "We hope we can use our model to go to private companies to recommend spatial positioning for better service," said Boutilier.
In addition to developing an optimization model for ambulance services, Boutilier and Chan will be evaluating other forms of transportation, such as CNG or Rickshaw ambulances, in order to address issues with reaching patients in areas without adequate access to ambulance transport, such as slums.
In the long term, Boutilier hopes to bring health optimization to other cities in developing countries. "North America is already quite optimized, so the gains made by optimization are marginal," he said. "But in developing countries, operations research can make a huge impact."