March 30, 2016 — This year, 19 student teams took on industry challenges that were as diverse as their engineering disciplines. After eight months of collaborating with their industry clients, the fourth-year engineering undergraduates displayed their final design solutions at the Multidisciplinary Capstone Design Projects (MCP) Showcase on March 24.
The MCP course, now in its third year, has enabled 240 students from across all undergraduate engineering programs in the Faculty of Applied Science & Engineering to work together on projects proposed by industry partners. This year's roster of industry clients included Astronauts for Hire, Bombardier, Defence Research & Development Canada (DRDC), Royal Bank of Canada, Sunnybrook Hospital, and more.
Here are three of the innovative projects presented at this year's showcase: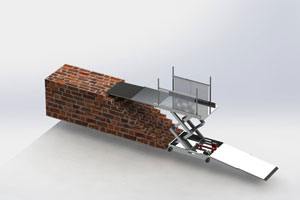 A portable, battery-powered elevator for the elderly and disabled
If you have limited mobility, you can add accessibility features to your house—but what about when you go over to a friend's for dinner? Now you can take accessibility with you.
Students designed an inexpensive, portable lift prototype that can be placed atop stairs to help people with mobility issues get in and out of front doors.
Working with clients at St. John's Rehab at Sunnybrook Hospital, the scissor-lift design is made of a 12-volt-battery-powered air pump, and two foldable lifts, with one that lifts up and down to get users on and off the platform. The design, which would cost approximately $1,900 and lasts up to six years, can then be folded back into a suitcase shape to allow users to carry it from one location to another.
"It can be carried over from their house to a friend's place, or over to a mall or hospital," said group member Changyue Wu, (Year 4 MechE). The team also designed a two-layer cover for the portable lift, ensuring it can endure the outdoor elements.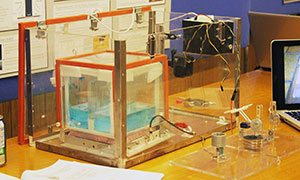 Microgravity experiments to improve astronaut training and student education
Astronauts for Hire, a non-profit organization training commercial astronauts for spaceflight, asked a team of MCP students to design, prototype and test several experiments that could be conducted in zero gravity and in suborbital flights.
The team developed three experiments, testing them through drop tests in the three-storey atrium of the Sanford Fleming. The first experiment analyzes capillary action — the ability of a liquid to flow freely through narrow channels without the assistance of gravity. "It's similar to seeing what would happen when fluids are sloshing around during suborbital flight," explained Sana Abdurahman (Year 4 ElecE).
The second experiment studies how an object with a stable axis would rotate in free fall, while the third experiment demonstrated the effects of pendulum motion and magnetism during free fall.
The experiments will help assess the focus, dexterity, accuracy and mobility of astronaut candidates, in addition to providing a teaching tool for high school students learning physics concepts.
Modernizing battle-planning simulation and education
Today, Can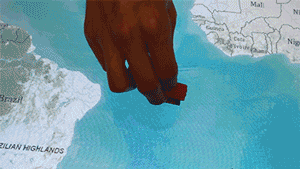 adian soldiers learn to navigate and map unfamiliar terrain using only a pencil and a blank piece of paper, according to Henry Chen (Year 4 CompE). His team was enlisted by Defence Research and Development Canada (DRDC) to develop a more modern approach to teaching its Land Navigation course to the Canadian Armed Forces (CAF).
The team's solution was to replace the paper with a touch-screen surface and the pencil with 3D-object recognition. And instead of a physical map, they've replaced it with GeoPDF, a plug-in that displays digital maps containing embedded geographical information.
The team's goal was to not only modernize the teaching tools, but also enable a better learning experience and quality of the education for CAF recruits and instructors.
"Instead of the class having to huddle around a piece of paper on the floor, we wanted to create a much more forward-thinking, more interactive classroom experience for the CAF, something to keep them engaged," said Chen.
"Each year, our students showcase their outstanding work at this event, demonstrating their dedication and superb engineering skills," said Professor Kamran Behdinan (MIE), Director of the University of Toronto Institute for Multidisciplinary Design & Innovation (UT-IMDI). "This year is no exception. Their work exemplifies the strength that comes from collaboration and innovative engineering design."