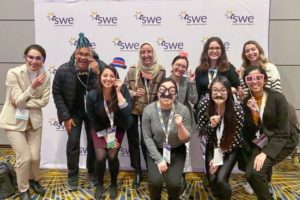 Last month, a delegation of U of T Engineering graduate students travelled to Detroit, Mich. for the Society of Women Engineers (SWE) WE Local conference. From the moment they walked into the room, they could feel that something had changed.
"I was amazed when I first entered the conference hall with around 800 women engineers, the largest gathering of its kind that I have ever witnessed," says Anjula Antonis (ECE MASc candidate). "It felt empowering to be surrounded by so many like-minded individuals."
The students spent the next two days making connections with their fellow women engineers and gaining practical tools to help them thrive in their chosen profession.
"In one session, we broke out into small groups and shared stories of challenges we've encountered, and how we overcame them using resilience," says Sharon Ferguson (MIE PhD candidate). "This really made it clear that we are not alone, and we can overcome anything."
Their trip was partially funded by U of T Engineering's Office of Diversity, Inclusion & Professionalism. Over the course of this academic year, the office is supporting several student groups as they attend conferences in Canada and beyond.
These experiences aim to empower students from groups that have been traditionally underrepresented in engineering — including women, Black students and members of the 2SLGBTQ+ community — to bring their authentic selves to their chosen field, and to drive change across the profession.
"Students with identities that have been marginalized in engineering can feel isolated and self-select out of the field. Finding community is really important," says Marisa Sterling, Assistant Dean, Diversity, Inclusion and Professionalism at U of T Engineering.
"We are investing in conference access as one way to help advance safe and welcoming spaces for women, 2SLGBTQ+, Black, Indigenous and students of many other identities. Students gain skills in leadership, communications, and technical knowledge that they then share back with the U of T Engineering community through presentations to the grassroots Engineering EDI Action Group, talks with lab and peer groups and/or participation in student clubs like GradSWE, QueerSphere and NSBE."
In January, Toronto hosted the inaugural EngiQueers Canada conference. Jennifer (Jay) Gordon (CivMin PhD candidate), a member of QueerSphere Grad, was among the U of T Engineering students who attended.
"There is a huge amount of value in creating these safe, supportive spaces where students who are in the minority get the chance to experience what it is like to be the majority, fully accepted for who they are, and relating to others in a way which allows us to make sense and live as our authentic selves," says Gordon.
"I really appreciate the Faculty's ongoing efforts to counter historic inequity on this and several other axes of privilege. On top of that, this first-ever EngiQueers national conference was a great opportunity to network, meet new friends and attend a couple of awesome parties!"
Another student, a trans woman PhD candidate who preferred to remain anonymous, spoke about what EngiQueers Canada meant to them.
"In November of 2022, I began receiving emails about this conference, and I thought about how great it would be to meet people like myself — engineering queers in similar fields of study and perhaps with similar experiences," she says.
"I received little to no support from relatives and friends during my whole life.  What the Diversity, Inclusion & Professionalism office did showed me that there is a sense of acknowledgement about the lack of support for our community."
From March 22 to 26, a delegation from the National Society of Black Engineers (NSBE) U of T Student Chapter will be in Kansas City, Mo. to attend the 2023 NSBE Annual Convention. The group also sent a delegation to last year's NSBE Annual Convention, held in Anaheim, Cali.
"As a young Black person in STEM, there comes a time in both my academic and professional journeys where I feel 'other' simply due to a lack of representation and visibility in professional spaces," says Shatho Hubona (Physics), who serves as NSBE U of T's Conference Chair.
"For me, attending the NSBE convention is an opportunity to form meaningful personal and professional connections with individuals who share my lived experiences."
Hubona is also looking forward to applying what he learns at the convention.
"Attending this event will be a transformative experience that would help me and the NSBE body advance in our respective careers and contribute to the broader goal of creating a more equitable and representative industry."
– This story was originally published on the University of Toronto's Faculty of Applied Science and Engineering News Site on March 24, 2023 by Tyler Irving