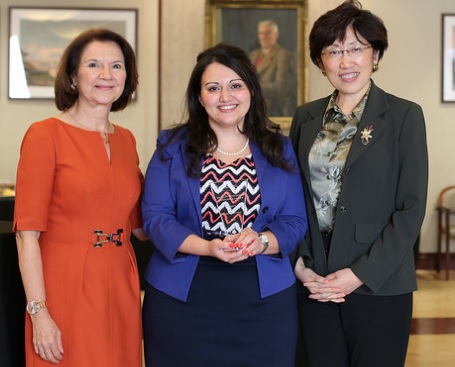 April 18, 2016 — Carla Baptista, Undergraduate Program Coordinator and Counsellor for MIE, was recognized with the Quality of Student Experience Award at the Faculty's ninth-annual Celebrating Engineering Excellence reception on April 14. Five staff awards and two research awards were conferred at the celebration, which also honours the recipients of awards and major research grants over the past year.
"As we approach the end of another outstanding academic year, I am delighted to bring everyone together to celebrate the extraordinary contributions of our faculty and staff and to express our gratitude to everyone who makes this possible," said Dean Cristina Amon. "On behalf of the Faculty, I congratulate the richly deserving recipients of our staff and research awards, as well as those who received recognition over the past year."
Carla Baptista (MIE)
Quality of Student Experience Award
This award recognizes a staff member who has made significant contributions to the quality of student experience in the Faculty.
Carla Baptista is the Undergraduate Program Coordinator and Counsellor for MIE. Since taking on this role, she has led efforts to ensure students are better informed and better supported in their academic experience, and to encourage them to participate more fully in extra-curricular and co-curricular activities. In addition to streamlining and improving services, she has worked to improve resources for new students, developed a student success handbook, and instituted a career-coaching program. Despite the demands on her time from these projects, Carla always prioritizes individual students in need, personally ensuring that every student who reaches out to her gets the help and support they require and acting as an advocate and mentor for all MIE's students. In 2015 Carla was recognized for her commitment to the student experience with the Mechanical Engineering Student Club's Dedication Award.