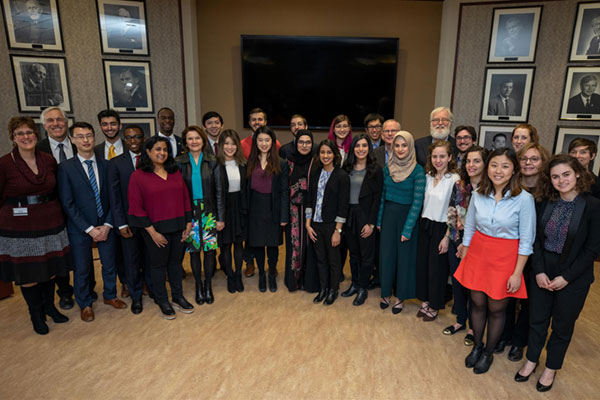 April 18, 2018 – Undergraduate and graduate engineering students were recently recognized for their exceptional contributions to the Engineering and University communities with 2018 Gordon Cressy Student Leadership Awards.
Five MIE students are among this year's honourees: Faizan Akbani, Tammi Hawa, Oghosa Igbinakenzua, Dareen Kutob and Marissa Zhang.
Prior to the formal awards ceremony at Convocation Hall, students joined Dean Cristina Amon, Paul Cadario (CivMin 7T3) and chairs and directors for the annual Dean's Tea to celebrate their accomplishments.
"Thank you for enriching the lives of students in our Faculty. Your commitment is a shining example of excellence, which is what we strive for in Engineering," said Dean Amon to the award winners. "I am very excited to welcome all of you into our global alumni community when you graduate in June."
Established in 1994, the prestigious award was named after former vice-president of development and university relations, Gordon Cressy, who presents the award to recipients each year.
Find out what U of T Engineering Cressy Award winners have in store after graduation and how they've made their mark on campus: