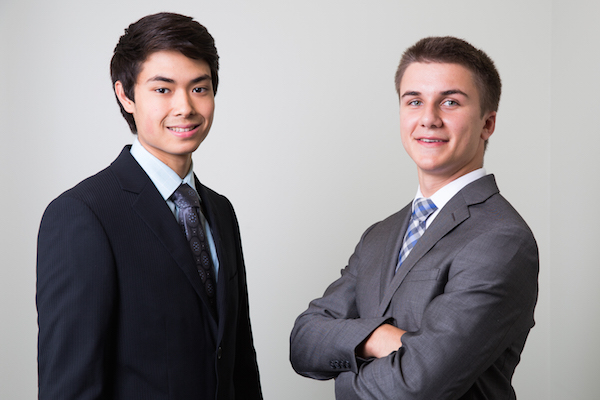 September 21, 2015 — First-year engineering students Christopher Choquette-Choo (Year 1 EngSci) and Daniel McInnis (Year 1 MechE) have been recognized with 2015 Schulich Leader Scholarships.
Started in 2012 by business mogul and philanthropist Seymour Schulich, the program awards 50 students annually across Canada who are pursuing undergraduate degrees in STEM (science, technology, engineering and math) and have demonstrated significant leadership qualities. Choquette-Choo and McInnis each received $80,000.
"These awards are a testament to the innovative leaders and creative program solvers that our engineering programs attract," said Micah Stickel, chair, first year engineering. "On behalf of the Faculty, I offer my deepest congratulations to both of these students, and I thank Seymour Schulich for encouraging young leaders across Canada."
U of T's Xarissa Thompson spoke with Choquette-Choo and McInnis about the award and why he chose to study engineering at the University of Toronto.
---
What got you started volunteering? What have you learned from engaging with your community?
Christopher: I learned that I prefer to work as part of a team. In groups I'm usually the last person to talk, because I watch and listen to everyone else first. I value diverse perspectives, because then you can work to encompass everyone's needs. You can bring what you're good at to the table and the group will counterbalance everyone's strengths and weaknesses.

Daniel: I volunteered at a retirement home that had a unit for Alzheimer's and dementia patients. It could be very sad, but it helped me appreciate what I had and understand that there are solutions to all kinds of problems if you work on it. When I was a student trustee for the Ottawa Catholic School Board, we worked to get our school board to raise student scholarship amounts by 50 per cent. We also found out about resources our board had that no one knew about, and tried to find a way to increase awareness and enrich our programs. The best part of all of it was getting the adult perspective on things and then being able to contribute the student point of view.
What do you want to do to combine your interest in science and your background in community work?
Christopher: I've always wanted to be an inventor. My father was a handyman and I learned about things like electrical circuits when I was pretty young. I'm studying Engineering Science, which has a bit of everything, and my interest is in the biomedical, robotics and aerospace fields. I'm really passionate about innovation and I want to use engineering and design to make society better in some way.
Daniel: In high school I entered science fairs and competed nationally. I had a couple of concussions from playing hockey, so I designed a helmet and did drop tests to compare it to other helmets on the market. I currently have a Canadian patent issued and a U.S. patent pending on an improved hockey and football helmet design. One of the things I'm excited about is that I've only scratched the surface of where I can go. It's not just about the little details; it's about knowing what you want to do and working with people to make it happen. In terms of having an impact, engineering gives me that opportunity.