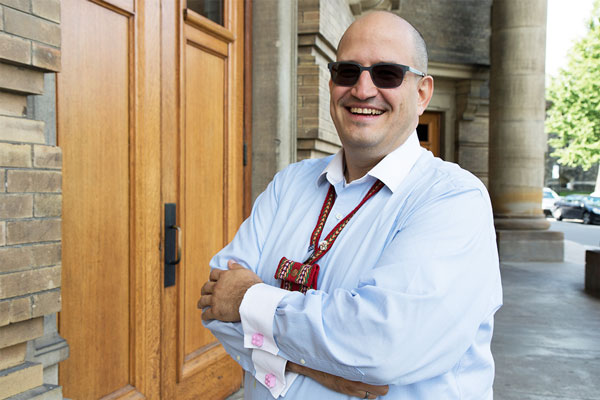 January 12, 2018 – Professor Jason Bazylak (MIE) remembers what it was like to be an Indigenous student arriving at university to study engineering.
"My first year was particularly rough on me," he recalls.
He struggled to keep up academically. He had good grades in high school but the demands of his engineering program were something else entirely.
Most of all, he and his brother were the first in his family to attend university and there were few supports or mentors to help him. "I didn't know any engineers, not a single one," he says.
Today Bazylak, a member of the Métis Nation of Saskatchewan, is an associate professor, teaching stream, in the University of Toronto's Faculty of Applied Science & Engineering and a recipient of the Hart Teaching Innovation Professorship for his research on identifying barriers for Indigenous students entering the field.
Along with Wendy Mortimer, director of Engineering Pathways and Indigenous Partnerships, Bazylak is a co-chair of the Eagles' Longhouse, a new committee working on a blueprint to improve U of T Engineering's relationship with Indigenous peoples. The name draws on the symbols of both the majestic bird messenger of wisdom and the place of community and learning.
"We want to change the culture of engineering to be welcoming of Indigenous faculty, staff and students," says Bazylak.
The Eagles' Longhouse was formed in response to U of T's Truth and Reconciliation steering committee, which early last year year released a final report with 34 calls to action for the university. Dean Cristina Amon of the Faculty of Applied Science & Engineering took up the charge and tasked key staff and faculty members including Bazylak — her adviser on Indigenous initiatives — with creating a "Blueprint to Action," with ideas on how U of T Engineering can address the calls to action.
The Eagles' Longhouse plans to deliver that blueprint early this year.
The committee will focus on four key areas: adding Indigenous spaces, including more Indigenous curriculum, hiring more Indigenous faculty and staff, and improving access for Indigenous students. The committee is made up of Indigenous Elders, faculty members and staff. Oneida Nation Elder Kim Running Bear McDougall is on the committee, as is Erin Bobicki (MSE, ChemE) assistant professor in the department of chemical engineering and applied chemistry, and Joan DaCosta, manager, Director's Office, University of Toronto Institute for Aerospace Studies.
Bazylak says that coming up with effective solutions is not clearcut and that the Eagles' Longhouse is being careful to keep in mind the great diversity in Indigenous experiences and perspectives. "There's the Métis student raised on Bloor Street in Toronto, there is the First Nations student who grew up in a remote reserve, there is the Inuit student who grew up north of the Arctic Circle," he says. "To say we can come up with one method that's going to support all these Indigenous people in their journey to come to U of T is not feasible."
Bazylak says Engineering needs a plan that can be flexible enough to meet the individual and unique needs of each Indigenous student.
The Eagles' Longhouse has smaller, specialized working groups who are consulting with external experts and Indigenous partners to come up with ideas for how to better address such diverse student needs, from not having all the required courses to coming from a remote location and being a mature student with a family.
Opening up and expanding opportunities for Indigenous students to enter engineering is something Bazylak says is essential to expanding the field and creating solutions to contemporary problems facing Indigenous and non-Indigenous communities in Canada and beyond. "For me, being an engineer is about community building," he says.