March 23, 2016 — Omar Haggag (Year 4 MechE) is one of three undergraduate students who are making sustainability and the environment core components of their education.
Population growth, the depletion of natural resources and environmental degradation are straining our global society like never before. As the world increasingly looks to engineers to advance solutions to these critical challenges, U of T Engineering offers a diverse range of minors and certificates that prepare undergraduate students to make sustainability a key part of their engineering practice.
"Sustainability—whether environmental, economic or social—is surely the most pressing issue of our time," says Professor Bryan Karney (CivE), Associate Dean of Cross-Disciplinary Programs. "We want our students to be both deeply motivated and well-equipped with the latest tools for addressing these challenges, whether they pursue a career in aerospace engineering, cloud computing, water resources or alternative energies."
The Faculty of Applied Science & Engineering offers minors in Environmental Engineering and Sustainable Energy, and a certificate in Renewable Resources Engineering. These programs give students competencies in areas ranging from environmental impact and risk assessments, to alternative energy systems, energy policy and green urban infrastructure. Students must complete a minimum of six half-courses to earn a minor and three half-courses for a certificate.
More than 600 undergraduate students have earned minors in Environmental Engineering and Sustainability Energy — among the seven minors the Faculty offers — since they were introduced in 2008. Here are three undergraduate students who are making sustainability and the environment core components of their education.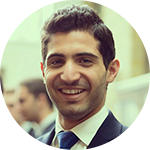 Omar Haggag (Year 4 MechE) grew up in Abu Dhabi, "a place where the energy industry is a focal point in the economy." This experience inspired him to enhance his studies in the Energy and Environment stream in Mechanical & Industrial Engineering (in addition to the Solid Mechanics and Machine Design stream) with a minor in Sustainable Energy. "Sustainability is an approach that will help us move in the right direction towards what is best for our planet," says Haggag. "It's a long-term initiative and a core value that must be ingrained in our generation and in generations to follow."
Haggag is applying his education in sustainability to his MIE capstone project. Alongside three other students and under the direction of Professor Shaker Meguid(MIE), he is working to design a battery electric-powered vehicle (EPV) for the Mechanics and Aerospace Design Laboratory. The team hopes to provide a viable alternative to conventional internal-combustion engine vehicles and to improve the aesthetics, cost and safety of EPVs.