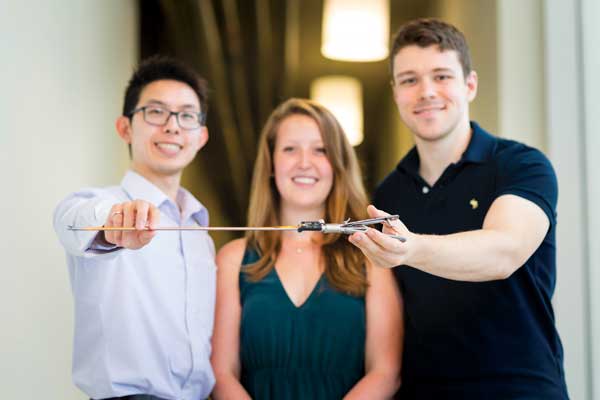 September 13, 2016 — A robotic exoskeleton for children with physical disabilities; an electronic "smart skin" that helps surgeons avoid errors; a meal replacement that promotes cognitive health — these are just a few of the U of T Engineering innovations featured at last Thursday's Hatchery Demo Day.
A total of 14 student teams pitched their business ideas to a panel of expert judges as part of the Dragons' Den-style event, hosted annually by The Entrepreneurship Hatchery, a startup accelerator at U of T Engineering. Competitors were vying for a share of $32,500 in seed funding and the attention of potential investors.
"Thank you to all of the teams for your energy, your passion, and for being hungry," saidJoseph Orozco, executive director of The Entrepreneurship Hatchery in his opening remarks. "You are the future."
Demo Day is the culmination of The Hatchery's intensive summer program, where student teams work with experienced mentors — including executives, lawyers, medical professionals and engineers — to develop their business ideas and competencies. They receive detailed feedback and guidance on everything from patent applications and incorporation to honing their pitches and building prototypes, which they create using 3D printers and other fabrication resources provided by The Hatchery.
The seed funding at stake at Demo Day includes a grand prize of $20,000 and a runner-up prize of $10,000, donated by alumnus Anthony Lacavera (CompE 9T7), founder and chairman of Globalive Holdings and former CEO of WIND Mobile. An additional $2,500 Orozco prize is provided through funds raised by the students themselves.
"The University of Toronto was recently named the top University in North America for research-based startups, and the presentations we have seen tonight are a testament to that position," said Cristina Amon, dean of the Faculty of Applied Science & Engineering. "We are very proud to celebrate the creativity, talent and hard work of these emerging entrepreneurs."
This year's winners were:
$20,000 Lacavera Prize: BOMBERobotics — Exoskeletons for physiotherapy
Maggu and his friend Rahul Udasi(MIE MEng candidate) began investigating ways that robotic exoskeletons could be used in physiotherapy for children with CP and other physical disabilities. They learned that although some robotic therapies exist, the exoskeletons typically cost a whopping $500,000, and are found in only a handful of clinics worldwide.
Maggu and Udasi set about building a smaller robotic exoskeleton, dubbed Trexo, that would be more portable and less costly and provide the same benefits as larger systems. They also designed Trexo to be modular so that it can adjust and grow with the child. By combining innovations in many parts of the system — from redesigned mechanical components to new software —  they were able to reduce the cost of the system by a factor of 10. In July 2016 they flew to India to test Trexo with Maggu's nephew and received very positive feedback.
"We are really fortunate to be part of the Hatchery," says Manmeet. "We had access to amazing resources and amazing mentors." The team plans to use the prize money to pursue regulatory approval from Health Canada. Their initial plan is to target the 120,000 physiotherapy clinics across North America. They also believe some families will want to purchase the device for themselves.
"Parents want to try everything, and they want the best technology available," says Maggu. "We're not saying robots will replace people, but our exoskeleton could help physiotherapists provide better care."
BOMBERobotics also received support from U of T's Health Innovation Hub (H2i) and from theDepartment of Computer Science Innovation Lab (DCSIL). Read more about the team on theFaculty of Medicine website.
$10,000 Lacavera Prize: SensOR — Force-feedback for safer surgery

SensOR is a company that makes it easier for surgeons to operate at a distance by providing a way to sense the amount of force being applied to their instruments. The team includes (from left to right): Justin Wee (ECE 1T3, IBBME PhD candidate), co-founder and chief technical officer; Leigh Masotti, head of business development; and Robert Brooks (MIE PhD 1T5), co-founder and chief executive officer. (Photo: Neil Ta)
Approximately two-thirds of modern general surgeries use minimally invasive techniques, with smaller incisions and longer instruments, to reduce trauma and accelerate healing time. But remotely operated or  robotic tools make it harder for a surgeon to feel the response of the tissues they are operating on. This can increase the chance of causing additional injury: up to 12 per cent of medical errors are caused by inappropriate application of force during surgery.
SensOR has a solution: a thin film that easily wraps around any surgical instrument and translates physical force into electrical signals. The force-feedback data is wirelessly transmitted to a receiver and a visual display, making it easy to see how much force is being applied. These visual cues can be integrated into the monitors that surgeons already use to see inside the body.
SensOR's CEO Robert Brooks (MIE PhD 1T5) credits the team's Hatchery mentors with helping them to articulate their vision. "We had this wonderful technology, and we knew exactly what we were doing, but the only people who understood it were surgeons," he says. "Our mentors were absolutely instrumental in helping us nail down exactly what our value proposition was so that we could connect with investors."
SensOR's initial market will be surgical training programs. Although some force-feedback simulation systems exist already, SensOR is the only one that follows student all the way from simulation into surgery and allows students to train using the same tools they will be using in practice. Once the product is approved by Health Canada, the team hopes to start using it in real surgeries. "The ultimate goal is to enable new surgical procedures that are not possible today," says Brooks.
SensOR also received support from U of T's Health Innovation Hub (H2i). Read more about about SensOR on the Faculty of Medicine website.