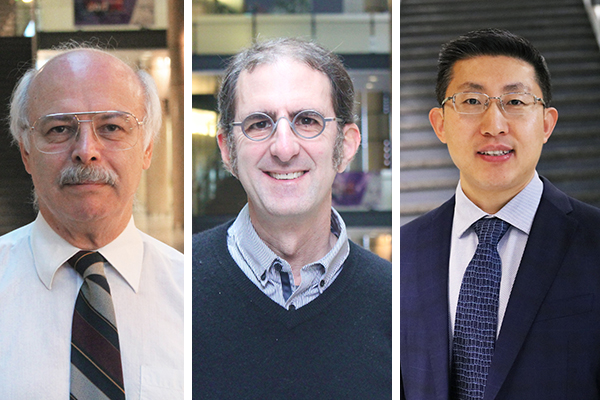 February 6, 2018 – MIE Professors Andreas Mandelis, David Steinman and Yu Sun are among nine U of T researchers sharing almost $820,000 in funding this year from the Connaught Innovation Award, aimed at accelerating the development of promising technologies and promoting knowledge transfer arising from the university.
The projects awarded were:
– Andreas Mandelis for  "Development of dynamic lock-in carrierography (LIC) imaging technology as a quality control tool for the electronics wafer process cleaning industry."
– David Steinman for "A real-time, dynamic ultrasound simulator incorporating tissue motion and deformation."
– Yu Sun for "A novel system for non-invasive selection of single spermatozoa with high DNA integrity for clinical in vitro fertilization (IVF)."
"We'd like to congratulate the recipients of this year's Connaught Innovation Award. The Connaught Fund continues to support cutting-edge research at the University of Toronto," said Vivek Goel, U of T's vice-president of research and innovation. "The range of research and innovation activities receiving support is incredible, from new treatments for multiple sclerosis to testing ways to automatically assess dementia from speech, and it showcases the breadth and depth of research at the university."
The internal award is made possible through the Connaught Fund, the largest internal university research-funding program in Canada. Since its creation in 1972 from the sale of the Connaught Laboratories, which produced vaccines, antitoxins and insulin after its discovery by U of T researchers Frederick Banting and Charles Best, the Connaught Fund has awarded more than $160 million to U of T scholars.