November 9, 2016 – A robotics pioneer, a three-time Olympian and a Harvard-MIT professor were among nine exceptional alumni recognized with 2016 Engineering Alumni Association (EAA) Awards.
The awards, which celebrate alumni for their outstanding contributions to the Skule™ community as well as their remarkable career achievements, were presented at the Great Hall at Hart House on November 3.
"All nine alumni have enriched and strengthened our Faculty through their extraordinary achievements and their engagement with their alma mater," said Dean Cristina Amon. "On behalf of U of T Engineering, I would like to extend my most heartfelt thanks and warmest congratulations to all our honourees."
MIE recipients were:
Engineering Alumni Hall of Distinction Award
Paul Henderson (EngBus 5T7)
As a young boy spending his summers on Toronto Island, Paul Henderson dreamed of becoming a competitive sailor. His dream would become reality.
Henderson holds the record of having competed in all of the Canadian Olympic Sailing Trials from 1948 to 1984. He competed in three Olympic Games: 1964, 1968 and 1972, and would have represented Canada in 1980 if not for the Olympic boycott against the Soviet Union. He served for over 30 years in the International Sailing Federation (ISAF), the governing body for sailing officially recognized by the International Olympic Committee. For 10 years, from 1994 to 2004, he served as the ISAF's first non-European president.
In his professional life, Henderson transitioned his family's plumbing contracting business into a leading commercial food equipment company. The company grew to be one of the leading commercial food equipment service  providers in North America. By 2000, the company had 80 employees and operated out of a 25,000-sq-ft facility in Toronto. Through a network of technicians and sub-agents it serviced equipment and distributed parts throughout the Ontario market. The customer base included convention centers, major hotels, casinos, entertainment facilities, golf courses, chain restaurants, restaurants  and retirement homes.
At the turn of the century, Henderson sold controlling interest of the company to his employees and completed his career transition from the field of commercial food processing equipment sales and service to international sailing and sports management.
Ronald Bertram Sidon (IndE 6T6)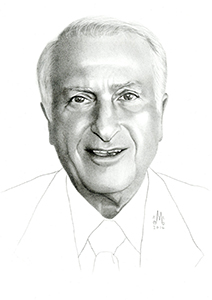 Ron Sidon was born in Woodstock, Ont., where his parents met and farmed after emigrating from Germany and Czechoslovakia. Up to age 19, he worked alongside his parents to expand and modernize their dairy farm. This business exposure taught him how to manage other workers, to be ingenious at fixing equipment and to find unique solutions to problems.
In 1966, Sidon graduated from the University of Toronto with a BASc in industrial engineering, and in 1968 he received his MBA from York University. He joined IBM in 1968 as a systems engineer and later as a sales engineer. He left IBM in 1971 to start the first of five unique entrepreneurial business ventures, including Enertech R & D, where he invented and patented the first electronic cream-dispensing machine. Tim Hortons and McDonald's were among the first customers. He continued to acquire businesses and properties across Southwestern Ontario, and he formed Jarmal Sidon Developments Inc. to hold and control his companies.
A serial entrepreneur and philanthropist, Sidon became the primary donor and inspiration to complete the Malagosi water project in central Tanzania. This project spanned two years and included a dam in the mountains, settling tanks, a large storage tank, about 15 km of in-ground piping, 11 tap outlet stations, and a cattle-watering station. The villagers contributed their labour and a water committee operates and maintains the system that is now enjoyed by 3,500 rural residents.
John Weber (MechE 7T9)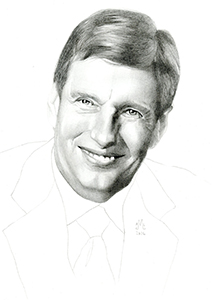 John Weber's career has focused on engineering and technology corporations at both the CEO and board of director levels. He has led several highly successful enterprises, including positions within GE, AlliedSignal, Honeywell, as well as high-tech ventures such as VIA Motors, Enphase Energy, Docutech and VitalizeMe.
His first professional experience was with Shell Canada in the fledgling tar sands operation in Alberta. However, his achievements at Remy International, a leading manufacturer, re-manufacturer and distributor of heavy-duty systems, starters and alternators, and hybrid power technology, stands as the clearest testament to his technical and leadership skills. When Weber was appointed CEO of Remy in 2006, the company was on the brink of bankruptcy. He restructured the company, growing sales to over $1 billion, and took Remy public in 2011. By 2015, it was a profitable and sustainable global company with more than 6,000 employees worldwide. He retired as CEO in 2015, maintaining Remy's board leadership.
Weber is also a highly committed volunteer. From 2010 to 2015, he was the founder and chair of the Department of Mechanical &
Industrial Engineering (MIE) Board of Advisors. Weber is currently the chair of the MIE Fundraising Committee and is actively pursuing significant fundraising opportunities. He has also been active with Duke University's Pratt School of Engineering and his faith communities in Aspen and Phoenix.