November 2, 2015 — It was a celebration of collaboration at Victoria College's Alumni Hall last Wednesday as students, professors and industrial partners gathered to recognize the latest achievements of the University of Toronto Institute for Multidisciplinary Design and Innovation (UT-IMDI).
Founded in 2012 by Professor Kamran Behdinan (MIE), UT-IMDI catalyzes multidisciplinary collaborations between engineering students and industry partners. Undergraduate and MEng students apply for paid internships lasting several months, providing engineering solutions for companies in a variety of sectors. The students get a vibrant experiential learning environment, while partner companies benefit by leveraging innovative new ideas and identifying potential future talent.
Dean Cristina Amon congratulated the latest cohort of 24 UT-IMDI graduates. "You have had a unique opportunity to address industry challenges and develop key communications, professional and leadership competencies by collaborating with our partners to create innovative technical solutions," she said. "You have worked intensely on these projects and you have more than risen to the challenge."
Todd Young, chair of UT-IMDI's Advisory Board and vice-president and general manager of customer services at Bombardier Commercial Aircraft, received the Recognition Award for his work in helping the program grow over the last three years. In his remarks, he noted that some of the graduates have already been hired by the industry partners. "That is a true testament to the value this program brings," he said.
The completed projects ranged from intelligence analysis to advanced manufacturing and aircraft design. Below are three examples of student success:
Speeding up repairs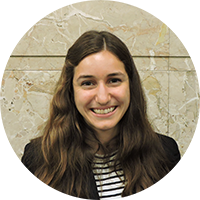 Gabrielle Sebaldt (MechE 1T5+PEY) worked at Bombardier, helping to standardize and speed up the repetitive process of making repair methodologies for composite aircraft components. She created a software script that asks the user questions about the repair they are making through a series of forms, then creates a document based on their inputs. "The form sequence responds to your previous answers, so you're not asked for information that is not relevant to your repair," she said.
Sebaldt really enjoyed the experience of working at a company. "The camaraderie was very strong," she said. "People help each other out, and I really felt like I was part of the team, even though I was the intern." She hopes to continue doing engineering design in her future career.
Anticipating future demand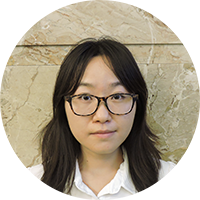 Lu Liu (MechE MEng candidate) took on a project for SPP Canada Aircraft Inc. that looked at a classic problem in manufacturing: customers often need a shipment of parts more quickly than they can be created from scratch. Liu created a mathematical model that would accurately forecast the number of spare parts that are likely to be required at a given time. This allowed the company to optimize their process and avoid having too much or too little stock on hand at any time.
Liu said that working for a company was a great way to translate what she learned in the classroom into industrial solutions. "They told me about their pressures, and I applied my knowledge," she said. "It gave me confidence."