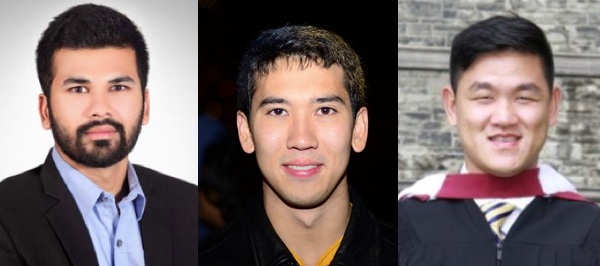 October 20, 2015 — Three U of T Engineering graduates have been named to the 'Highly Commended' list for the 2015 Undergraduate Awards — an international competition that invites high-achieving undergraduates to share innovative research projects. Winners take part in the UA's Global Summit in Dublin starting November 10.
This year's Engineering winners include Raghav Singal (IndE 1T4 + PEY), Dominic Liao-McPherson (EngSci 1T4 + PEY) and Xiyu Liu (EngSci 1T4 + PEY). They join five other alumni from across  U of T named to the prestigious 'Highly Commended' list.
To be 'Highly Commended', a student's research or academic paper must be ranked in the top 10 per cent of more than 5,000 worldwide submissions. The competition is open to students in their final or penultimate year of studies.
"Becoming a winner, or even highly commended, means you are in the top of your field," explains UA's website. "The Undergraduate Awards identifies and recognizes the most creative and nuanced arguments and ideas coming out at undergraduate level internationally."
U of T News spoke with Engineering winner Raghav Singal to learn more about his submission.
What is your paper about?
The paper discussed multiple methods that can be used to improve the image quality of cone beam computed tomography (CBCT) scans. CBCT scans are used during radiotherapy treatments in order to evaluate and dynamically plan the treatment. As compared to CT scans, they do not expose the patient to a lot of radiation and therefore are less harmful. However, the image quality of CBCT scans is relatively poor. Professor Dionne Aleman (MIE), Professor Doug Moseley and I proposed novel mathematical models that can be used to improve the CBCT image quality.
Why do you care about this subject?
I believe in making the world a better place, and cancer is one of the biggest problems faced by us.
What's next for you?
I just started my doctoral degree in Operations Research at the School of Engineering and Applied Sciences at Columbia University. It is hard to say where I will end up five years down the road, but academia is a possibility. Regarding areas of research, I am mostly interested in mathematical optimization applied to healthcare, finance, sports and energy.
Any supporters at U of T who helped you along the way?
Professor Dionne Aleman from the department of mechanical and industrial engineering supervised me on this research project. We started in September 2012 and worked on it for almost three years. She was very helpful and patient throughout the project.
How else did you get involved at U of T?
I served as class rep for the Industrial Engineering Club 2013–14 and became the group's academic director for 2014–15. I also served as vice-president, academic on the Chestnut Residence Council from 2013–14 and as the Council's Speaker for 2014–15. In terms of volunteering, I provided notes to students with disabilities for over 15 courses.