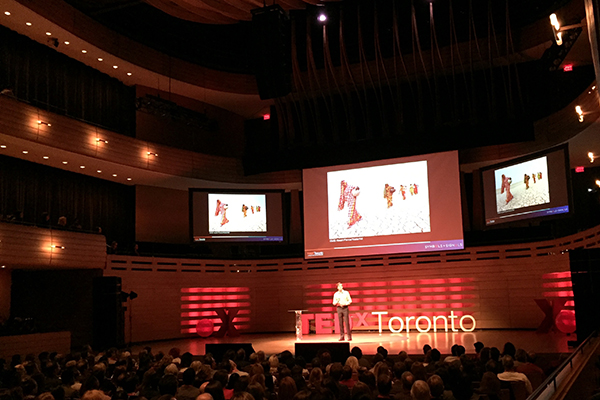 October 28, 2016 — One summer Calvin Rieder (Year 2 MIE) went camping with his family. During the night, dew condensed on the inside of his tent, rolled down the fabric wall and made his pillow wet. To most, this event would mean minor discomfort. But to Rieder, that tiny rivulet of water inspired a design for an atmospheric water condenser — a portable device that pulls clean, drinkable water out of thin air.
Since waking up that morning in his tent, Rieder's passion for developing sustainable solutions to address the urgent need for clean, potable water in developing nations has led him to become a member of the World Youth Parliament for Water, and was recently named in Plan Canada's Top 20 Under 20. Now, his drive to promote universal access to clean water has put him centre stage on the famous TEDxToronto red carpet.
"We have to make changes that have sustainable impact — if we don't, we won't survive," he told an audience of more than 1,000 attendees at the October 26 event, organized on the theme of 'Symbols + Signals'. "I wanted to get clean water to where it's needed, with no negative impact on the environment."
"I didn't want to create one problem while trying to solve another, so I thought about three things: accessibility, affordability and sustainability." The first morning he went to check on his prototype, he was thrilled by the macabre scene: "The collecting basin was full of drowned flies, and I was delighted that there was enough water in there to do that."
Currently a second-year engineering student in the Department of Mechanical & Industrial Engineering, Rieder is also working on a solar-powered still that purifies dirty water of both physical and bacterial contaminants. His vision is not only to supply drinkable water to rural, remote and developing nations where water treatment infrastructure is scarce or nonexistent, but to supplement overtaxed urban water resources.
Rieder was one of 18 thinkers, artists, researchers and inventors invited to speak and perform at TEDxToronto, an independently organized event dedicated to the core TED concept of sharing "ideas worth spreading."