Lucas Hilden (Year 1, MechE) was a Grade 8 student in the rural town of Falmouth, N.S., when he developed an aid that uses facial recognition technology to help Alzheimer's patients recognize their loved ones.
Inspired by his grandfather, who suffers from the disease, the project won him a gold medal and innovation award at the Canada-Wide Science Fair that year.
"That experience showed me that the world of STEM is definitely where I belong and where I could make the most impact on society," says the now-17-year-old, who is one of just 100 students from across Canada to win a coveted 2023 Schulich Leader Scholarship — including 10 now studying at the University of Toronto.
Awarded to incoming undergraduate students who demonstrate exceptional promise and leadership in science, technology, engineering and mathematics (STEM) and entrepreneurship, the Schulich Leader Scholarships are designed to foster the next generation of global STEM pioneers.
For Hilden, who started three businesses in high school while nurturing his love of STEM and hosting coding camps for children, winning the scholarship reassured him that he was on the right path.
"I read the Schulich Leader Scholarship requirements and thought, 'Wow.' If I could write scholarship criteria to describe what I'm good at and what I do, it would literally be this scholarship," he says. "When I found out I had won it, it felt like an important confirmation that I'm doing what I should be doing."
The Schulich Leader Scholarships are an investment in Canada's brightest minds
The Schulich Leader Scholarships were established in 2012 by businessman Seymour Schulich, who credits his success to a scholarship that enabled him to attend McGill University's first-ever MBA class in 1965.
Valued at $120,000 each for students pursuing engineering programs and $100,000 each for science, technology and mathematics students, the scholarships cover the total cost of an undergraduate education — allowing Schulich Leaders to focus entirely on pursuing their goals.
"Schulich Leaders are extraordinary young people with big dreams, big ideas and unparalleled potential to change the world," says University of Toronto President Meric Gertler.
"We are incredibly excited to welcome the newest Schulich Leaders to U of T, and we could not be more grateful to Seymour Schulich and the Schulich Foundation for investing in the ambitions of these remarkable students."
This year, the 10 Schulich Leader Scholarship winners attending U of T come from across Canada — from Nova Scotia to British Columbia — and are pursuing engineering, computer science and actuarial science programs. Their interests range from robotics to artificial intelligence, programming to entrepreneurship in STEM and beyond.
For U of T's Schulich Leaders, the future starts now
Sandy Welsh, U of T's Vice Provost, Students, says it's been inspiring to witness the impact of the Schulich Leader Scholarships on some of Canada's brightest students year after year.
"These scholarships open doors to unlimited opportunity for some of our country's most ambitious and brilliant young minds," she says.
"They not only provide the financial support students need to pursue a U of T education, but they also come with an incredible network of peers, mentors and supporters and offer access to world-class faculty and leading industry experts. We are incredibly grateful to the Schulich Foundation for helping these future STEM leaders start their journeys here at U of T."
Hilden, who is studying mechanical engineering, isn't sure yet what his future career will look like, but he knows he wants to combine his interests in business and engineering.
"I'm really interested in the entrepreneurship side of things, and I have big goals for the future," he says. "There are so many opportunities in the city and at the University to explore the different paths available to me. I'm just getting started."
Meet the 2023 U of T Engineering Schulich Leaders

Adam Omarali, Engineering Science
A graduate of the Crescent School in Toronto, Omarali is passionate about developing innovative solutions to improve lives and build stronger communities. As an apprentice with the Moonshot Factory in California, he helped create a design solution to reduce the environmental impact of fast fashion and has worked on innovations to reduce doctor and nurse fatigue.
Lucas Hilden, Mechanical Engineering
A graduate of Avon View High School in Falmouth, Nova Scotia, Hilden won a national award for facial recognition technology he developed for Alzheimer's patients, ran coding camps for children and started three businesses when he was in Grade 10. Hilden brings his dual passion for STEM and entrepreneurship to his mechanical engineering studies at U of T.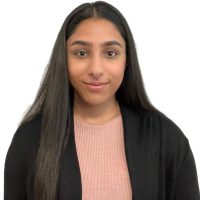 Manroop Kalsi, Engineering Science
Kalsi hopes to leverage her education in engineering science to further the development of the field of robotics. As a student at Sandalwood Heights Secondary School in Brampton, she pursued research into neuro-prosthetics. She worked as an Innovator and
Activator with The Knowledge Society, which offers "Olympic-level" training for future CEOs.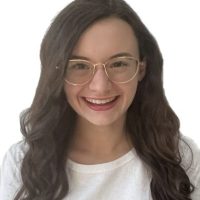 Samantha Sedran, Engineering Science
While engaging in robotics competitions at Bayview Glen School in Toronto, Sedran developed a passion for motivating young girls to pursue STEM. In addition to fundraising to send girls to robotics camp, volunteering with robotics programs and engaging with industry leaders, she also launched the GirlsCrewClub, an all-girl robotics club running at one of Toronto's elementary schools.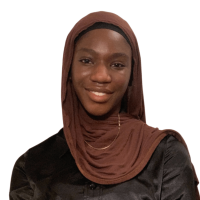 Serewaya Latif, Computer Engineering
Latif brings a wide range of skills and interests to her computer engineering studies at U of T. A graduate of Dunbarton High School in Pickering, Ontario, Latif has worked as a freelance full-stack developer and an innovation developer intern at RBC. She is also the founder of Resource ASK, an organization that connects Black entrepreneurs to the business resources they need to succeed.