We are pleased to announce six recent faculty promotions in the Department of Mechanical & Industrial Engineering. Congratulations to Patrick Lee and Scott Sanner for earning tenure and being promoted to Associate Professor. The Department is also celebrating Jason Bazylak's promotion to Professor, Teaching Stream and Tobin Filleter, Axel Guenther, and Xinyu Liu being promoted to Professor.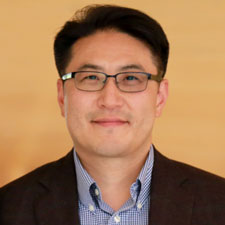 Patrick Lee
Dr. Patrick Lee, PhD, PEng is an Associate Professor in the Department of Mechanical & Industrial Engineering (MIE) at the University of Toronto. Dr. Lee began his professional career at The Dow Chemical Company in 2008.  He was a Research Scientist and Project Leader in Dow's Research and Development organization. He then joined the Department of Mechanical Engineering at The University of Vermont as an assistant professor in 2014. Since joining UVM, he created his own research platform on the lightweight and smart composite structures.  He joined the Department of Mechanical and Industrial Engineering at The University of Toronto in July, 2018.
Dr. Lee's research areas focus on polymer foam processing and characterization, and processing-structure-property relationships of nano-composites.  He has 61 journal papers, over 100 refereed conference abstracts/papers, 2 book chapters, and 20 filed/issued patent applications. He is the PI or co-PI on domestically and internationally awarded grants from various government agencies and industries. Among his honors, Dr. Lee received the G.H. Duggan Medal from Canadian Society for Mechanical Engineering (CSME) in 2020, the AKCSE Early Achievement Award in 2019, the US National Science Foundation Early Faculty Career Development Award (NSF CAREER) in 2018, the Polymer Processing Society (PPS) Morand Lambla award in 2018, the Hanwha Advanced Materials Non-Tenured Faculty Award in 2017, and 3 best paper awards from the Society of Plastics Engineer (2005, 2 in 2011).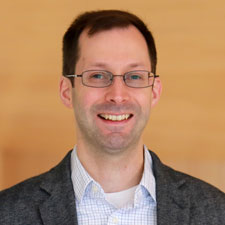 Scott Sanner
Scott Sanner is an Associate Professor in Industrial Engineering, Cross-appointed in Computer Science, and a faculty affiliate of the Vector Institute. Previously he was an Assistant Professor at Oregon State University and before that a Principal Researcher at National ICT Australia (NICTA) and Adjunct Faculty at the Australian National University.
Professor Sanner's research spans a broad range of topics from the data-driven fields of Machine Learning and Information Retrieval to the decision-driven fields of Artificial Intelligence and Operations Research. Scott has applied the analytic and algorithmic tools from these fields to diverse application areas such as conversational recommender systems, adaptive user interfaces, and Smart Cities applications including predictive health analytics, transport optimization, power systems security, and residential HVAC control.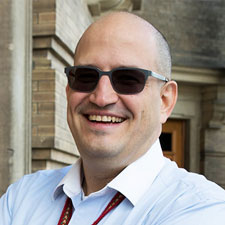 Jason Bazylak
Jason Bazylak brings engineering, education, and design experience to his role at the University of Toronto. He coordinates an award winning first year design course (Engineering Strategies and Practice), conducts research into reducing the under-representation of women and Indigenous people in engineering, and is the Dean's Advisor on Indigenous Initiatives. Professor Bazylak started his career as a manufacturing engineer in the new product development group of a large telecommunications company; then joined the University of Victoria, first as an engineering co-op education coordinator, and later as an engineer-in-residence. He joined the University of Toronto in 2008 as a teaching stream professor with a focus on design education. In 2017 he was named an inaugural Hart Teaching Innovation Professor, for his work to increase engineering engagement with Indigenous students and communities, and in 2020 was awarded the Joan E. Foley Quality of Student Experience Award by the U of T Alumni Association.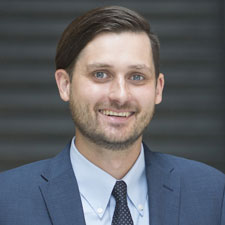 Tobin Filleter
Tobin Filleter is a Professor and the Associate Chair of Graduate Studies in the Department of Mechanical & Industrial Engineering, the Associate Director of IANDIT and the Co-Director of the recently created University of Toronto Center for 2D Materials (UT2D). Prior to joining the MIE department at U of T, Dr. Filleter was a postdoctoral research fellow in the Department of Mechanical Engineering at Northwestern University (2009-2012). Dr. Filleter received a BSc (Eng.) in Engineering Physics from Queen's University (2003) and PhD in Physics from McGill University (2009). During his PhD Dr. Filleter also spent time in Germany as a visiting scientist at the INM-Leibniz Institute for New Materials.
Professor Filleter's research interests are in nanomechanics of materials. Specific areas of research include nanotribology, mechanics of 2D materials, nanocomposites, and non-destructive testing. He has authored papers in many top international journals including Nature, Nature Materials, Science Advances, and Nature Communications. He is the recipient of several major awards including the Erwin Edward Hart Professorship, CSME I.W. Smith Award, and Ontario Early Researcher Award.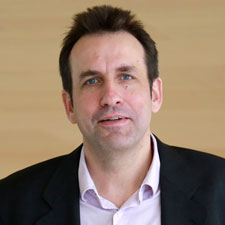 Axel Guenther
Dr.  Axel Guenther is an internationally recognized mechanical and biomedical engineer with expertise in biomedical nano/microdevices for applications in micro physiological systems and biofabrication strategies for soft materials and human tissue substitutes. His team has invented several 3D bioprinting approaches to mimic nature's ability to rapidly achieve the controlled hierarchical organization of cells and biomolecules. These include a handheld 3D printer that can in situ deliver skin precursor sheets for the treatment of full-thickness burn wounds. His team also introduced one of the first organ-on-a-chip platforms, a microfluidic device for the functional characterization of intact small blood vessels. Dr. Guenther is the founding Co-Director of the Center for Research and Applications in Fluidic Technologies (CRAFT), a nationally leading collaborative research centre between the National Research Council of Canada and the University of Toronto. He has been recognized by the Safwat Zaky Research Leader and Inventor of the Year awards at the University of Toronto.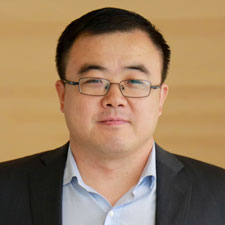 Xinyu Liu
Xinyu Liu is an Associate Professor in the Department of Mechanical and Industrial Engineering. Prior to joining the University of Toronto, he was an Associate Professor and the Canada Research Chair in Microfluidics and BioMEMS (tier II) in the Department of Mechanical Engineering at McGill University. He also serves as an Associate Editor of IEEE Transactions on Automation Science and Engineering, IEEE Robotics & Automation Letters, and the International Journal of Advanced Robotic Systems.
Xinyu's research interests are at the interfaces of microfluidics, bioMEMS (bio-microelectromechanical systems), and robotics. His research group is developing integrated micro/nanodevices and systems to target a variety of exciting applications in biology, medicine, and environment. Applications of their recent technologies include point-of-care diagnostics, large-scale gene screening, neural basis of behaviour, high-throughput drug screening, and environmental pollution monitoring.
-Published July 20, 2021 by Lynsey Mellon, lynsey@mie.utoronto.ca