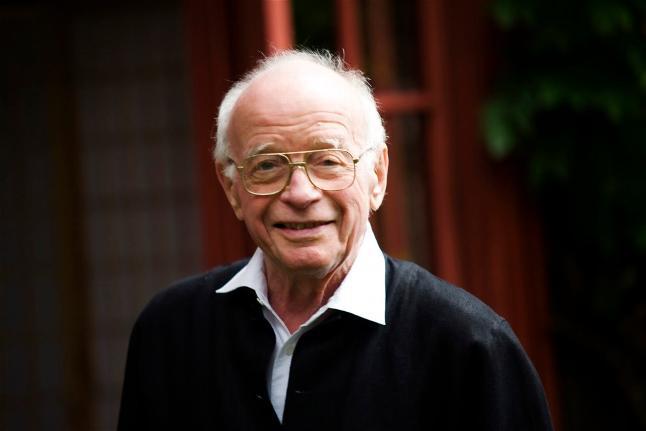 March 1, 2019 – Professor John W. Senders, who joined the Mechanical & Industrial Engineering (MIE) department in 1974, passed away on February 12, 2019 due to complications from pneumonia, two weeks before his 99th birthday.
Senders will be remembered fondly for his many achievements over the course of his life and seven-decade career in academia. He was considered by many as one of the pioneers in the field of Human Factors Engineering, the study of human interactions with technology and systems. Human Factors Engineering focuses on creating safer and more cost-effective systems in areas such as healthcare, manufacturing and defence.
Much of Senders' early work was applied to the design of space vehicles, including the Mercury, Gemini, and Apollo projects. Dedicated to improving human well-being, Senders also worked in the areas of mental workload and highway safety, among many others. His groundbreaking work on driving safety led to the Occluded Vision Paradigm, which was awarded an Ig Nobel Prize for "improbable research" in 2011. This prize was one of the many cherished awards he received throughout his life.
Senders' groundbreaking activities in the nascent field of human error research eventually led to his interest in patient safety and medication errors. He was one of the founders of Canada's Institute for Safe Medication Practices, an organization committed to advancing medication safety. Senders also introduced the Failure Mode and Effects Analysis technique for medical safety through the American Institute for Safe Medical Practices in 1994.
Senders was MIE Professor Paul Milgram's PhD thesis supervisor and longtime friend. "In addition to cherishing my personal, decades-long friendship with Professor Senders," says Milgram, "I was always particularly impressed by the significant number of my own students who established and maintained their own strong, filial relationship with their 'academic grandfather.'"
In 2010, the University of Toronto's John W. Senders Award for Medical Innovation was established. The annual award supports student projects that apply engineering to the design of a medical device. To date, the award winning student projects have included a powered mechanical leg brace, a cost-effective portable lift and a physiotherapy device for Parkinson's disease patients.
Outside of the classroom and laboratory, Senders was known as a gourmet cook who enjoyed hosting large dinner parties at his home. He would often share anecdotes about his travels, career and anti-authority leanings, including the story about being expelled from Antioch College for refusing to take a required first-year math course, saying, "I've known this stuff since I was seven, and I'll be damned if I'll do it again."
His humour and tenacity will be missed, but the MIE community is grateful to have had Senders as a long-standing member. "I am privileged to have known John in his last years," says MIE Chair and Professor Markus Bussmann. "He was a wonderfully interesting man who was full of ideas and opinions. He truly lived life to its fullest and anyone who knew him is the better for it. His was a life worth celebrating."
Senders is survived by his wife, Ann Crichton-Harris, of Toronto, by his first wife, Virginia Loftus Senders, of Amherst, Massachusetts, and by five children and nine grandchildren. Memorial contributions may be made to the John W. Senders Award for Medical Innovation by contacting Kristin Philpot at kristin.philpot@utoronto.ca and 416-946-7827 or at www.donate.utoronto.ca/senders
by Pam Walls, pam@mie.utoronto.ca