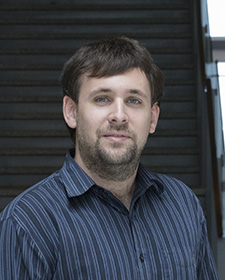 Professor Matthew Mackay (MIE) is the 2020 recipient of the Wighton Fellowship. The Fellowship, awarded by the Sandford Fleming Foundation to just one recipient nationwide each year, recognizes excellence in the development and teaching of laboratory-based courses in undergraduate engineering programs.
Currently serving as Associate Chair of Undergraduate Studies for the Department of Mechanical & Industrial Engineering (MIE), Mackay has led a multi-year initiative to improve lab development and integration within the mechatronics stream.
Mackay completely redesigned the stream, creating new courses and revamping outdated courses to provide students with hands-on designing and building experience. As a result, mechatronics has gone from the least to the most popular stream in the program, taken by more than 90% of mechanical engineering students.
Beyond the mechatronics stream, Mackay implemented a "design spine" for MIE — a continuous stream of courses with tightly integrated design projects and supporting laboratory experiences, from first year through the fourth-year capstone design course.
He also created the course Mechanical Engineering Design I to ensure that regardless of a student's path through the program, they can still engage with real-world design problems. In recognition of these contributions, Mackay received MIE's Early Career Teaching Award in 2014 and the Faculty's Early Career Teaching Award in 2017.
Mackay also spearheaded the creation of a central space for students engaged in traditional mechanical and mechatronics design. This makerspace, called the "M-Space," has been active for five years. Mackay designed lab series and design projects leveraging the M-Space that were integrated into multiple mechanical engineering courses; each of these course elements gives students a start-to-finish design/build experience.
During the COVID-19 pandemic, the makerspace has moved online, allowing non-contact prototyping services for students who need them. Mackay has also worked with the MIE lab team to move traditional labs online, so that students may remotely operate real hardware as part of their online learning.
"On behalf of the Faculty, I want to extend my enthusiastic congratulations to Professor Mackay for earning this rare distinction," said U of T Engineering Dean Chris Yip. "This is terrific recognition of his tremendous contributions as a pedagogical leader in Engineering, as exemplified by his revitalization of our mechatronics program and his creation of new and innovative laboratory experiences. I am so proud of his efforts and, indeed all our faculty, who are working to create awesome learning experiences and opportunities for our students."
– This story was originally published on the University of Toronto's Faculty of Applied Science and Engineering News Site on January 12, 2021 by Carolyn Farrell