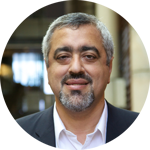 May 11, 2015 — MIE Professor Kamran Behdinan has been elected as a Fellow of the American Society of Mechanical Engineers (ASME) for his outstanding achievements in the engineering profession.
Professor Behdinan is the NSERC Chair in Multidisciplinary Engineering Design and the Director of the University of Toronto Institute for Multidisciplinary Design & Innovation (UT-IMDI). His research fields include: design and development of light-weight structures for aerospace, automotive, and nuclear applications, multidisciplinary design optimization of aerospace and automotive systems, as well as multi-scale simulation of nano-structured materials and composites at elevated temperature.
He has also published more than 90 peer-reviewed journal papers and 140 conference papers, and six book chapters. He has been the recipient of many prestigious awards and recognitions such as the Research fellow of Pratt & Whitney Canada, fellow of the CSME, and the Ryerson FEAS research awards in 2004 and 2010.
ASME is a not-for-profit membership organization that enables collaboration, knowledge sharing, career enrichment, and skills development across all engineering disciplines, toward a goal of helping the global engineering community develop solutions to benefit lives and livelihoods.