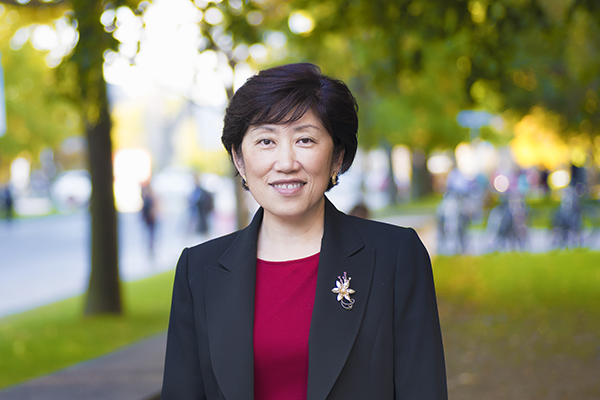 March 24, 2017 – Professor Jean Zu has been appointed Dean of the Charles V. Schaefer Jr. School of Engineering and Science at Stevens Institute of Technology (US), effective May 1, 2017. She will end her term as Chair, Department of Mechanical and Industrial Engineering on March 31, 2017.
Professor Zu has served in the leadership of the Department of Mechanical and Industrial Engineering since 2008, first as the inaugural Associate Chair, Research, and then as Chair starting in 2009. Under her leadership, the department has successfully recruited 13 outstanding faculty members, and has achieved record numbers in both undergraduate and graduate student enrolment.
She has worked strategically to develop the department's research collaborations with industry and international partners, and she has advanced the outreach activities to alumni and donors. A recent achievement for the department is the exemplary outcome to increase gender diversity in the MIE undergraduate programs. In 2016, the incoming first-year class was comprised of 49.7 per cent women, up from 29.2 per cent in 2015.
An announcement will be made shortly regarding the appointment of an Interim Chair who will provide administrative leadership to the department while a search for the next Chair proceeds.
As dean, she will oversee a school with more than 170 faculty members. Stevens was the first school of mechanical engineering in the US, and now provides a multi-disciplinary, design-based education rooted in technology and the applied sciences. The school's eight departments serve both undergraduate and graduate students and offer more than 50 academic programs and majors.
Professor Zu's research interests reside in mechanical vibrations, dynamic analysis, design and mechatronics of various mechanical systems. She has successfully collaborated with many different companies on research projects with a focus on automotive applications. She recently extended her research to biomedical instruments and vibration-based energy harvesting. She published over 300 refereed papers, including 160 journal papers, and attracted numerous grants and contracts from government and industry to support her research.
She graduated with B.S. and M.S. degrees from Tsinghua University in China. After two years of working as a lecturer and researcher at Tsinghua University, she traveled to Canada and obtained her PhD from the University of Manitoba. Professor Zu joined the University of Toronto's Department of Mechanical and Industrial Engineering in 1994, and was soon promoted to associate professor in 1999, and to full professor in 2004. Zu has served as Chair, Department of Mechanical and Industrial Engineering since July 2009. Her contributions to her profession outside of the university are extensive. She served as the president of the Engineering Institute of Canada (EIC) from 2012 to 2014, and is a fellow of the Canadian Academy of Engineering (CAE), the American Association for the Advancement of Science (AAAS), the American Society of Mechanical Engineers (ASME), and the Canadian Society of Mechanical Engineering (CSME). She served as president of the CSME from 2006 to 2008, on the Grant Selection Committee of the Natural Sciences and Engineering Research Council of Canada (NSERC) from 2004 to 2007, and served as the associate editor of the ASME Journal of Vibrations and Acoustics from 2007 to 2013. She has worked extensively to raise both awareness and funding for engineering programs at the University of Toronto and across Canada.