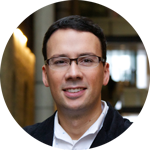 September 22, 2015 — Professor David Sinton has been named to the 2015 cohort of the Royal Society of Canada's College of New Scholars, Artists and Scientists. Now in its second year, the College recognizes and brings together an emerging generation of Canadian intellectual leaders from multiple disciplines.
"The College of New Scholars, Artists and Scientists is an exciting addition to the venerable Royal Society of Canada," said Professor Sinton. "I'm delighted and honoured to be included."
Sinton is a pioneer in applying small-scale fluid mechanics research, known as microfluidics, to improve energy technologies, such as fuel cells and those used for oil extraction. Prior to his research contributions in this area, the field of microfluidics was almost entirely focused on biological applications.
Inspired by issues with fluid transport in fuel cells, Sinton's first breakthrough led to a radical new understanding of how water is moved in porous fuel cell electrodes. This greatly enhanced the efficiency and performance of the cells in terms of power density and fuel utilization.
Building on this success, Sinton applied microfluidics to improve oil recovery processes that operated at massive scales. His insights underpinned several new reduced-carbon-footprint strategies for heavy oil extraction. The advances demonstrate the potential of microfluidic technology to improve the efficacy and reduce the carbon footprint of Canada's largest energy processes.
Sinton has received several awards for his research, including the Canadian Society of Mechanical Engineering's I. W. Smith Award and the McLean Award from U of T. He is a fellow of the Canadian Society for Mechanical Engineering, the American Society of Mechanical Engineers and the Engineering Institute of Canada.
"I am delighted to congratulate Professor David Sinton on earning this tremendous honour, which recognizes his pioneering research and places him among the finest emerging scholars in Canada," said Dean Cristina Amon. "He has made exceptional contributions to the fields of energy and microfluidics that could reduce the carbon footprint of oil extraction and point to more sustainable ways of meeting the world's energy needs."
"The Department of Mechanical & Industrial Engineering is proud to have such a breadth of excellent scholars, who continue to make important contributions to engineering research and society," said Professor Jean Zu, Chair of MIE. "On behalf of the department, I extend my congratulations to Professor Sinton."
The College of New Scholars, Artists and Scientists was created to gather scholars, artists and scientists at a highly productive stage of their careers into a single collegium where new advances in understanding will emerge from the interaction of diverse intellectual, cultural and social perspectives.
The initiative's mandate is to address issues of particular concern to the group of interdisciplinary collaborators, for the advancement of understanding and the benefit of society, taking advantage of the interdisciplinary approaches fostered by the RSC.
The new members of the College will be inducted at the Society's Annual General Meeting in Victoria, B.C. on November 27.