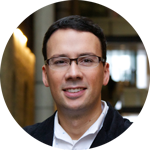 March 18, 2015 — Professor David Sinton (MIE) has been named Fellow by the Engineering Institute of Canada (EIC) for his exceptional contributions to bioenergy technologies in Canada.
Sinton is among three U of T engineers honoured. Professors Alberto Leon-Garcia (ECE) and Baher Abdulhai (CivE) were also recognized by EIC for their engineering achievements in the areas of Internet architecture and traffic reduction, respectively.
Sinton has made outstanding research contributions in the area of microfluidics—the science of controlling fluids at a microscopic scale—most notably for energy applications. He has become a globally recognized leader in this area for his pioneering work in pore-scale microfluidics, fluid property analysis, fuel cells and bioenergy. His work has resulted in more than 100 journal publications with over 3,000 citations and numerous research awards, including the CSME I. W. Smith Award, the Douglas R. Colton Award from CMC Microsystems, the Early Career Achievement Award from the University of Toronto Faculty of Applied Science & Engineering, and an award for teaching excellence. He is a Fellow of the Canadian Society for Mechanical Engineering (CSME) and the American Society of Mechanical Engineers (CSME). He was the 2013 University of Toronto McLean Senior Fellow.
Sinton is the director of the Institute for Sustainable Energy at the University of Toronto. Previous to joining U of T, he was a Canada Research Chair at the University of Victoria and a visiting associate professor at Cornell University.