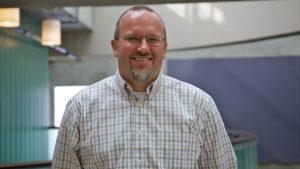 June 7, 2017 – Professor Craig Simmons is among six members of the U of T Engineering community to be honoured by the Ontario Society of Professional Engineers (OSPE) and Professional Engineers Ontario (PEO) with 2017 Ontario Professional Engineers Awards. Professor Simmons garnered the Research and Development Medal, for engineers who have advanced knowledge in engineering or applied science.
"These awards highlight the tremendous contributions made by U of T Engineers in every facet of engineering, through professional achievement, leadership in their fields, and service to the profession and the community," said Dean Cristina Amon. "On behalf of the Faculty, I offer my heartfelt congratulations to all the recipients on this well-deserved recognition."
Professor Simmons is a Distinguished Professor of Mechanobiology and Scientific Director of the Translational Biology and Engineering Program at the Ted Rogers Centre for Heart Research. He is recognized internationally for his innovative contributions to mechanobiology, an emerging discipline that aims to understand and control the mechanisms by which mechanical forces regulate the biological function of molecules, cells, and tissues. Simmons has made several fundamental discoveries that have improved our understanding of heart valve function and disease. He has also developed innovative lab-on-a-chip microtechnologies for cellular engineering, including miniaturized platforms for drug screening and testing biomaterials. Simmons is a Fellow of the Canadian Society for Mechanical Engineering and a recipient of the U of T Northrop Frye Award, for linking teaching and research.
Read more at U of T Engineering News.