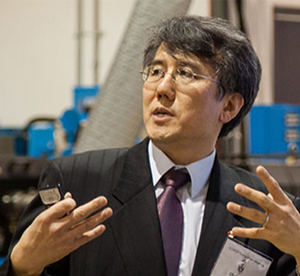 April 6, 2018 – Professor Chul B. Park is among three U of T Engineering researchers who have partnered with leading companies to strengthen technological innovation and enhance sustainability in pulp & paper, manufacturing and natural resources — sectors that are all key drivers of the Canadian economy.
The NSERC Industrial Research Chairs (IRCs) provide funding over five years to support academic-industry collaborations on both fundamental and applied research that is of commercial interest. The latest appointments bring the total number of IRCs at U of T Engineering to 10, joining existing collaborations in areas ranging from drinking water treatment to nuclear power systems.
"These industrial research chairs reflect our ability to attract world-leading research talent and to build strong relationships with external partners in a wide variety of fields," said Ramin Farnood, Vice-Dean, Research at U of T Engineering. "The new discoveries and innovations that they create will improve the competitiveness of their respective sectors and create value for Canadians."
Professor  Park has been named the Senior NSERC/NanoXplore Industrial Research Chair in Multifunctional Graphene-based Nanocomposites and Foams. He has partnered with NanoXplore, a company that manufactures graphene nanoplatelets. Together, the team is working to make composites of graphene and foamed plastic that can conduct heat away from sensitive electronic devices or provide shielding from electromagnetic interference. Such novel materials would be useful in sensors, smartphones and other portable electronic equipment.