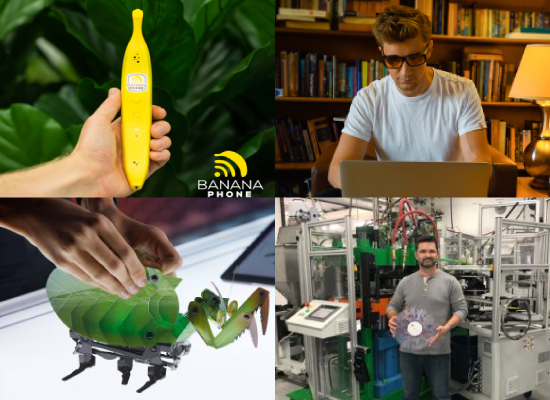 Products created by MIE alumni Charlie Katrycz, Amol Rao, Andrew Gillies and Rob Brown were included in the 2019 U of T Engineering Holiday Gift Guide.
In a world where everyone has a similar-looking smartphone, a banana-shaped phone is sure to make a statement. Co-created by grad student Charlie Katrycz (MIE MEng 1T8, MSE PhD candidate), the wireless handset brings a dash of fun to each phone call.
And just in time for the holidays, Katrycz and his team launched the Banana Phone 2.0, featuring extended battery life, and a Bluetooth speaker — so yes, you can play "Banana Phone" on your banana phone.
The banana phone is among Katrycz's many ventures. He is also leading a team to develop the world's thinnest hot water bottle for menstrual pain relief. For those looking for a gift idea for next year, the team plan to release Undu for presale in the first half of 2020.
"We are working on manufacturing the packets and optimizing the design so that it is user friendly and easy to wear and reheat," says Katrycz.

We've all been guilty of scrolling through our phones before bed or falling down the "just one more episode" wormhole, only to toss and turn in restless sleep afterward.
Blue light emitted by electronic devices can affect levels of melatonin (a hormone associated with sleep), shifting circadian rhythms and delaying sleep. Blue Block Glasses by Somnitude are designed to filter out the harsh blue lights and mitigate its effects.
Created by MIE alum Amol Rao (MIE MASc 1T8), the glasses should be worn two to three hours before bed for a better sleep.
Somnitude's glasses have received a Medical Device Approval from Health Canada and counts Canadian Olympians among its clients.
Andrew Gillies (MechE 0T7) co-founded Dash Robotics, Inc. with the mission of creating affordable, educational robots designed to inspire students to get involved in robotics and engineering.
The company's six-legged Kamigami Robots are easy to fold and snap together from flat sheets into insect-like creations — no tools required.
The free companion smartphone app enables users to remotely control their robot, battle with friends, play interactive games and more.
They're perfect for the budding maker (or future engineer) on your list.
The vinyl renaissance continues — sales of vinyl records have grown every year for at least a decade, and may now have eclipsed sales of CDs. But if you want to start up a new label, there are only two companies in the world from whom you can buy your vinyl pressing machinery.
Etobicoke-based Viryl Technologies is one of them. Founded by James Hashmi, Chad Brown and U of T Engineering alumnus Rob Brown (MechE 0T0), the company has more than 50 presses in operation around the world.
Among the labels that use Viryl's machines are Dine Alone Records, which has offices right here in Toronto as well as in Nashville, Los Angeles and Sydney. If you buy an LP copy of Smaller Chairs For The Early 1900s by Moneen, On A Wave by Dave Monks, or A Pill for Loneliness by City and Colour, you will be spinning a small piece of U of T ingenuity.
–This story was originally published on the University of Toronto's Faculty of Applied Science and Engineering News Site