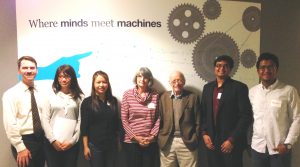 December 15, 2016 – A group of recent MIE alumni have designed a portable scissor lift that is not only economical, but easy to use and could improve mobility for the elderly and disabled. Eraj Ahmed (MechE 1T6), Pritam Das (MechE 1T5+PEY), Can Meng (ChemE 1T6) and Chengyue Wu (MechE 1T5+PEY, MEng student) have been honoured with the 2016 John W. Senders Award for Imaginative Design for their work.
The JWS Award is aimed at stimulating engineering students to think of the problems of modern life, to consider the inherent difficulties and risks that are incurred, and to design solutions that are effective and safe.
Taking on a challenge presented to them by Dr. Murray Waldman at St. John's Rehabilitation Centre through the fourth-year Multidisciplinary Capstone Design Projects (MCP) course, the team set out to create a portable mobility device that would help people with mobility concerns at home and at the workplace.
Recognizing that traditional mobility devices can be costly and time-consuming to install, the team were tasked with creating something that would work in small spaces and be a cost-effective option for users with financial limitations.
Stairs being a huge impediment to mobility, the team combined a ramp and scissor lift design, with required safety features, to ensure that users could travel with ease. Designed with portability in mind, the elevating device can work in homes, hospitals and workplaces without having to be adapted to each space.
"It can be carried over from their house to a friend's place, or over to a mall or hospital," said Wu. The team also designed a two-layer cover for the portable lift, ensuring it can endure the outdoor elements.
The benefits of this design are numerous and with an estimated price point of under $2,000 (CDN) and a life span of eight to 10 years.  People who felt tradition mobility devices were too bulky, constrained and expensive now have an option to regain their independence and move freely.
"Getting a chance to meet the award winners each year is a Red Letter day for us and we look forward to this each fall," said MIE alumnus and Professor Emeritus, John W. Senders. "We love their enthusiasm and their entrepreneurial aspirations, and appreciate their inventiveness. This year we were treated to a blow-by-blow of their decision making strategy. Simply amazing!  So onward and upward, and we look forward to seeing what is served up next year."