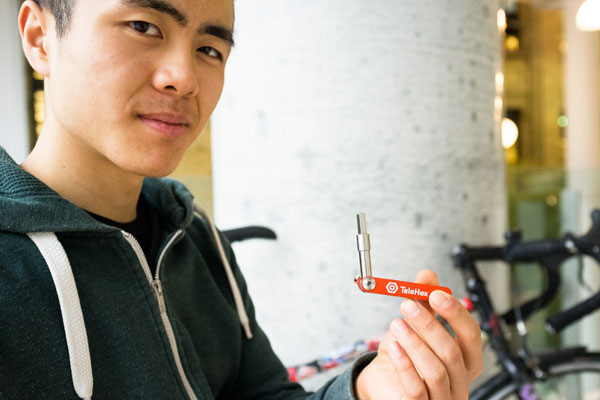 March 30, 2016 — As a First Year student Peter Wen (Year 3 MechE) fixed bicycles in his cramped dorm room. One night, he was on the floor searching for the right Allen key, the hexagonal-shaped tool used to tune bicycles (and assemble IKEA furniture), when it dawned on him that he needed a single tool to tune his bikes.
Now in his third year of mechanical engineering, Wen has launched TeleHex—an ultra-light, ultra-compact tool that uses telescoping parts to automatically fit the right sized key into the sockets that adjust bicycle seats, handlebars, brake lines, and several other parts. This means fewer tools to own and faster, easier tune-ups.
Wen saw opportunity in a peculiar trait of cyclists: they are sticklers for weight.
"TeleHex allows people to carry less equipment with them. This is very important because cyclists like to go as light and as compact as possible with all their equipment. The less you carry, the faster you go," said Wen.
While TeleHex weighs a mere 38 grams and is about the size of an adult pinkie finger, the product is engineered to be exceptionally strong, being made of specially treated steel and aircraft-grade aluminum.
Himself a medal-winning mountain biker for the U of T Varsity Blues, Wen developed his product from observation and instinct.
"From being part of the cycling community, I knew that there would be a niche for people who want tools that was the lightest and most portable available. This is currently it," said Wen.
Wen honed his idea from hand sketches to 3D-printed models as a hobby. It was his joining the Entrepreneurship Hatchery in the summer of 2015, however, that provided the push to turn his passion project into entrepreneurial reality.
The Hatchery gave Wen access to resources that allowed him to produce working metal prototypes. TeleHex went on to win $10,000 in seeding funding from the Lacavera Prize.
Wen seized this momentum to launch a Kickstarter campaign in September 2015. That campaign blew past its original goal to raise over $25,000 from 517 backers.
"It was very humbling to receive all this support from strangers all around the world who watched my Kickstarter video, took a look at the campaign and decided that I'm the person they believe to bring this into fruition," said Wen.
TeleHex received another $60,000 in funding from the Ontario Centres of Excellence's SmartStart Fund to bring the product to market.
With backing from the Hatchery, the Ontario government and a successful Kickstarter campaign, TeleHex now has the resources to expand product development and marketing.
Wen envisions TeleHex one day being sold on shelves of major retailers like Canadian Tire.
"Five to 10 years from now I see this as a kind of mainstream product that everyone has in their toolkit," said Wen.