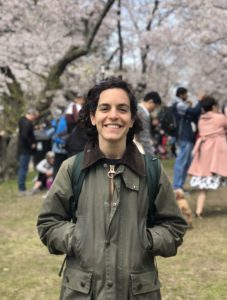 After completing her undergraduate degree in Industrial Engineering, Tammi Hawa (IndE 1T8+PEY, MASc 2T0) knew she wanted to further focus her expertise in healthcare engineering before entering the workforce. To meet this goal, Hawa went right from her undergraduate degree to begin working towards her MASc with Professor Michael Carter in the Centre for Healthcare Engineering. In fall 2020, fresh off a virtual graduation from her MASc, Hawa joined the University Health Network (UHN) Data and Implementation Science team. Her role as a Business Process & Data Analyst allows her to bring industrial engineering methodologies to a variety of projects, starting with supporting the roll-out of the UHN COVID-19 vaccination clinics.
"I've always been interested in working in healthcare, I knew I didn't want to be a doctor or a nurse," Hawa explained, "for me, healthcare engineering is the perfect fit."
During her graduate studies, Hawa's research focused on how industrial engineering can be applied to areas like patient flow and hospital logistics to help improve health services. Working with Professor Carter she examined operating room supply chains and determined where improvements could be made in supply ordering policies. In the summer of 2020 they began a new project with UHN to determine how best to manage the reopening of clinics during the pandemic.
Now, as part of the UHN Data and Implementation Science team, Hawa is helping to formulate best practices for the successful roll-out of the UHN COVID-19 vaccination clinics. While the idea of setting up a vaccination clinic isn't new, and many of her team members have experience setting up flu vaccine clinics, there are new challenges to address with this project.
"We had to determine the flow of patients through the clinic and take into account things like vaccine dose preparation and the implications of the two-dose schedule," Hawa explained. "We are using industrial engineering tools like process mapping and simulation to determine how to most efficiently distribute the available vaccine doses."
There are a number of things to take into account in this project, such as standard vaccine clinic logistics like preparation of the vaccine to more pandemic-specific considerations such as door screening and patient registration, to scheduling second dose administration appointments. With the added complications of an uncertain supply and a short lead time, planning has been challenging.
"It's a very iterative process," said Hawa, "We are working off our best guess using expert knowledge and conducting time studies to refine our model. We're aiming to know how many staff and stations we need to meet our vaccination goals and to define best practices than can hopefully be shared with other clinics as vaccination in Ontario ramps up."
Hawa has found her niche in healthcare engineering, and is looking forward to the variety of projects she will encounter in her role. Her team at UHN takes on any number of analytical or process-oriented challenges within the hospital and their close ties to the Centre for Healthcare Engineering mean there are often studies to oversee or collaborate on. Future projects may include forecasting patient arrivals and flow or designing tools to help update the layout of the hospital to improve patient care.
-Published February 25, 2021 by Lynsey Mellon, lynsey@mie.utoronto.ca