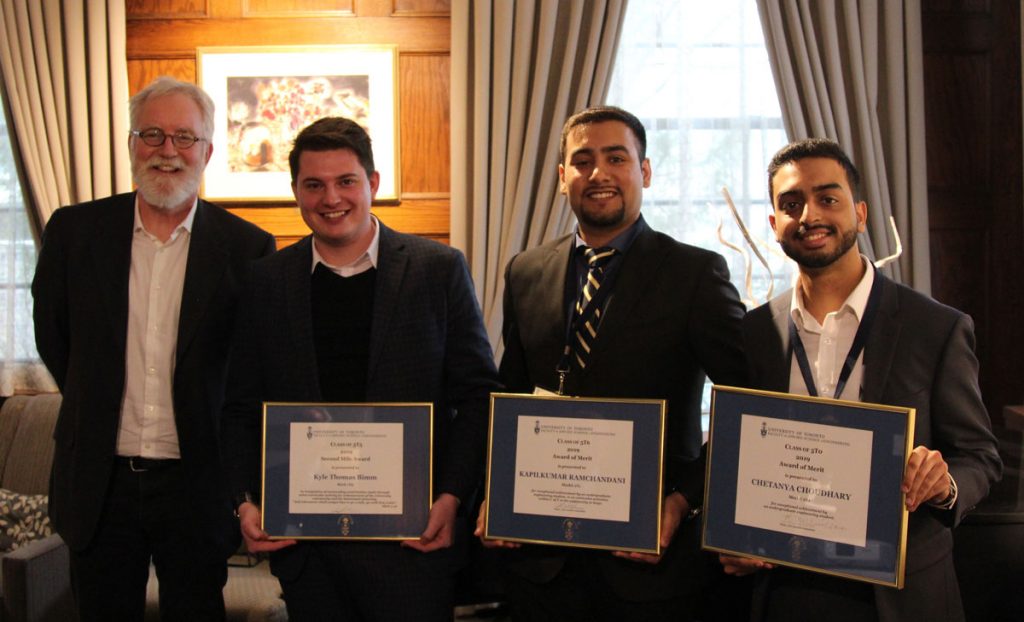 March 29, 2019 – This month, University of Toronto (U of T) Engineering alumni gathered to celebrate the achievements of undergraduate students who have excelled both in and out of the classroom at the 3T5, 5T0, 5T3 and 5T6 Engineering Students Award Lunch. Mechanical & Industrial Engineering (MIE) students Kyle Bimm, Chetanya Choudhary and Kapilkumar Ramchandani received three of the four alumni awards: the Class of 3T5 "Second Mile Engineer" Award, the Class of 5T0 Engineering Leadership Award and the Class of 5T6 Award, respectively.
Past recipients of the Class of 3T5 award Lang Moffatt (IndE 5T1) and Tom Woods (IndE 7T5) were at the event to personally present the certificate to fourth year mechanical engineering student Kyle Bimm. The Class of 3T5 "Second Mile Engineer" Award was inspired by engineering educator William E. Wickenden's call for engineers to broaden their education in his 1935 address Engineering Education Needs a 'Second Mile.' The award is given to a student who is professionally competent, but also aware of their responsibilities to humanity in general.
Kyle has exhibited leadership qualities throughout his time at U of T. He helped revive the Toronto chapter of the Tetra Design Society, creating assistive devices for those in need. In lieu of a traditional Professional Experience Year (PEY) position, Kyle chose to start his own company called Liscena, a technology venture with a focus on building artificial intelligence products for the financial services industry. He has served as a Head Leader multiple times during Frosh Week and also devotes time to mentor aspiring entrepreneurs in the U of T community.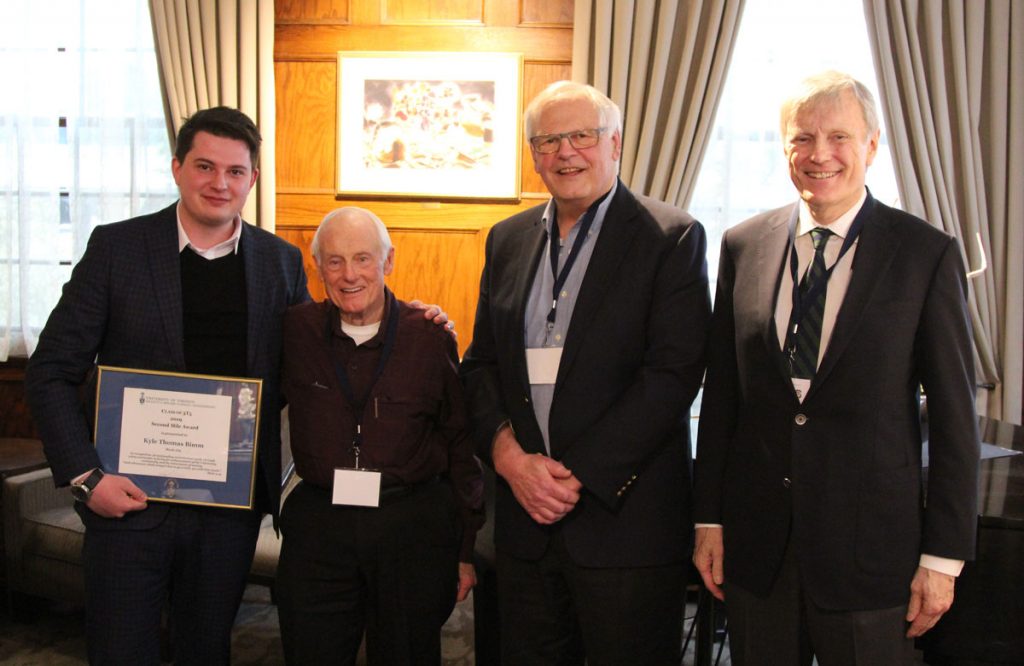 The Class of 5T0 established their award to recognize a student entering their second year of study who has demonstrated a high academic performance as well as leadership skills. Mechanical engineering student Chetanya Choudhary, who is also pursuing a minor in business, says his passion for engineering and business stems from a desire to create effective solutions to the world's greatest challenges. He has led design teams to create kitchen tools for arthritis patients, solar-powered portable water purifiers and intelligent energy optimization tools for large buildings. He is also a co-founder of the Interplanetary Space Exploration Team, a 25 member U of T design team engineering solutions towards Martian colonization.
"The Class of 5T0 award means a great deal to me," said Chetanya. "It is affirming of my leadership initiatives and their impact in inspiring my peers to tackle both present and future engineering and community challenges."
Nominations for the Class of 5T6 Award are made by U of T's Engineering Society, the student body for the Faculty of Applied Science and Engineering, in consultation with the Class of 5T6. The award is granted to a student who not only excels in their academic studies during their first year, but also demonstrates leadership within U of T and beyond.
This year's recipient of the Class of 5T6 Award, Kapilkumar Ramchandani, enjoys building both his technical and creative skills. He has a passion for mechatronics and robotics engineering, driven by a desire to develop assistive technologies with the potential to better society. He also has a love of art, design and cooking. He even created a cook book featuring healthy Indian recipes. This summer, Kapilkumar will travel to Japan to study nuclear energy, renewable energy and risk mitigation as part of the Green Program. He says his focus is to learn on a daily basis and create a sense of community wherever he goes.
"As a child, while other children would carry around rattlers, I would carry around a screwdriver," said Kapilkumar. "Over time, I have grown to not only acknowledge, but also learn the true nuts and bolts of the world and where I must play my part. With a naturally driven desire to develop new technologies with the potential to help society on a larger scale, this recognition acts as a mark of my diligence, perseverance and hard work."
by Pam Walls, pam@mie.utoronto.ca