Sixteen Engineering faculty and staff have been honoured for their outstanding contributions to U of T Engineering with teaching, research, and administrative staff awards.
These awards recognize exceptional faculty and staff members for their leadership, citizenship, innovation and contributions to the Faculty's teaching, service, and research missions.
"This year it's especially important for us to celebrate and acknowledge the incredible contributions made by our amazing faculty and staff," said U of T Engineering Dean Christopher Yip. "My warmest congratulations to the awardees, and my enormous thanks to all the faculty and staff who have risen to meet the unprecedented challenges we have faced."
The award recipients from MIE are:
ADMINISTRATIVE STAFF AWARDS:
Tomas Bernreiter, Tony Ruberto and Osmond Sargeant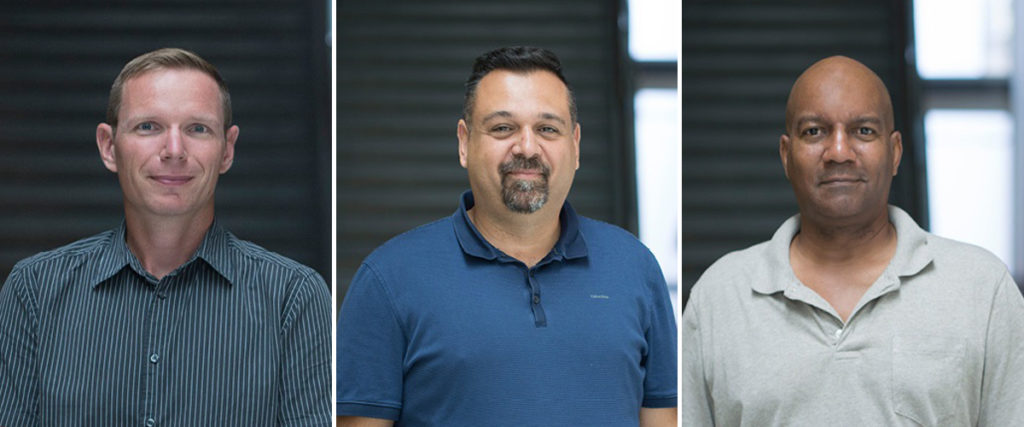 Quality of Student Experience Award for Behind-the-Scenes Staff
Recognizing staff members who have made significant contributions to the quality of student experience in the Faculty through the creation or improvement of programs or services.
This team has worked together for many years to design and maintain engaging labs for Mechanical Engineering (ME) undergrads, and to train TAs to run these labs safely and effectively. In total they have created or helped create more than 100 labs for dozens of courses. The team has always provided an excellent lab experience for students, but they truly went above and beyond during the sudden shift online last year, when they had to quickly reimagine every ME lab in order to provide a comparable experience for students learning remotely. The team successfully moved more than 50 separate labs online, working with each instructor to formulate custom course-by-course plans for virtual labs. They became experts on web-based learning platforms and video recording, creating professionally edited videos for multiple courses and organizing an effort to digitize dozens of labs. All the while, they have continued to support students and instructors on an individual level, providing training and technical support whenever needed. As a result, they have ensured that these labs continue to be a foundational learning tool for ME students.
Gayle Lesmond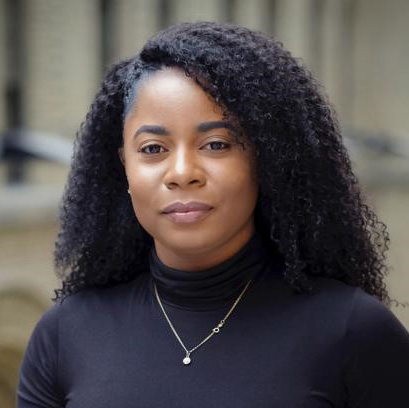 Harpreet Dhariwal Emerging Leader Award
Recognizing a staff member who leads by example in their dedication to the Faculty's mission and demonstrates potential to assume a more senior leadership role.
Since taking on the role of Undergraduate Program Administrator & Academic Advisor for MIE in 2018, Gayle Lesmond has created a culture of excellence in the MIE undergraduate office. She has spearheaded initiatives to streamline and improve administrative processes, developed an impressive level of knowledge and expertise, and led by example in her above-and-beyond work ethic and professionalism. Under her leadership the undergraduate office has become a more efficient, responsive, and welcoming place, which better serves all members of the MIE community. In addition to her "big picture" efforts to elevate the work of the undergraduate office, Lesmond is also a terrific advisor and mentor to students and consistently advocates for them behind the scenes. She has worked exceptionally hard over the course of this year to help both students and faculty meet the unprecedented challenges presented by the pandemic and to ensure that students continue to have access to all the resources they need to succeed and thrive. In 2020, Lesmond received an MIE Outstanding Staff Award in recognition of her many contributions to the department.
Safwat Zaky Research Leader Award
Recognizing leadership in innovative interdisciplinary and multiple-investigator initiatives that have enhanced the Faculty's research profile.

Axel Guenther (MIE, BME), Milica Radisic (ChemE, BME) and Aaron Wheeler (Chemistry, BME)
The Centre for Research and Applications in Fluidic Technologies (CRAFT)
This team of researchers is being recognized for their work over the last few years to create the Centre for Research and Applications in Fluidic Technologies (CRAFT). Working with Teodor Veres, their counterpart at the National Research Council of Canada (NRC), the team developed this unique U of T-NRC venture bringing together more than $50M in state-of-the-art microfluidics infrastructure and lab equipment, including a new Device Foundry and Tissue Foundry at U of T, both set to open later this year. In the coming years these facilities, supported by expert staff, will be used by hundreds of trainees and researchers from across U of T Engineering, other Faculties, and other universities in Ontario and beyond. CRAFT will support multidisciplinary teams — including engineers, biologists, physical scientists and clinicians — developing leading-edge microfluidic devices to be manufactured by Canadian industry partners and used by healthcare practitioners in clinical practice. CRAFT aims to strengthen the entire value chain of microfluidic manufacturing in Canada, making U of T a world leader in creating and translating microfluidics-enabled technologies that improve the health of Canadians.
Read the full story by Carolyn Farrell and learn about all of the award recipients on the University of Toronto's Faculty of Applied Science and Engineering News Site.