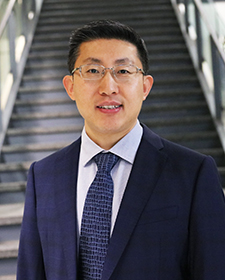 May 3, 2018 – Professor Yu Sun (MIE) has been awarded a chair advancement to Tier 1 Canada Research Chair (CRC) in Micro and Nano Engineering Systems. Professor Sun is among six U of T Engineering faculty members who were recently awarded new, renewed or advanced CRCs.
The Canada Research Chairs program enables U of T to attract and retain the best and most promising researchers from around the world. In addition to conducting research that improves our depth of knowledge and quality of life, the university's allocation of 275 Canada Research Chairs significantly enhances its capacity to train the next generation of leaders in their fields through student supervision and teaching.
Professor Sun's work focuses on designing and constructing micro and nanosystems, such as micro-nano robotic systems and MEMS/microfluidic devices. His Advanced Micro and Nanosystems Lab manipulates, characterizes and senses cells, molecules, and nanomaterials for both fundamental studies, as well as for clinical and industrial applications in IVF cell surgery, rare-cell isolation, blood-cell testing, drug screening, and precision instrumentation for industrial automation.
"I want to congratulate all of the new and renewed Canada Research Chairs at the University of Toronto and thank the government for supporting their important work," says Vivek Goel, U of T's vice-president of research and innovation.
"We are grateful to the Government of Canada for its ongoing investments in the Canada Research Chairs program and for the additional funding for this program announced in Budget 2018. Such investments not only yield new knowledge, but set the stage for important innovations ranging from new cancer therapies to sustainable transportation technologies that will improve lives in Canada and around the world."