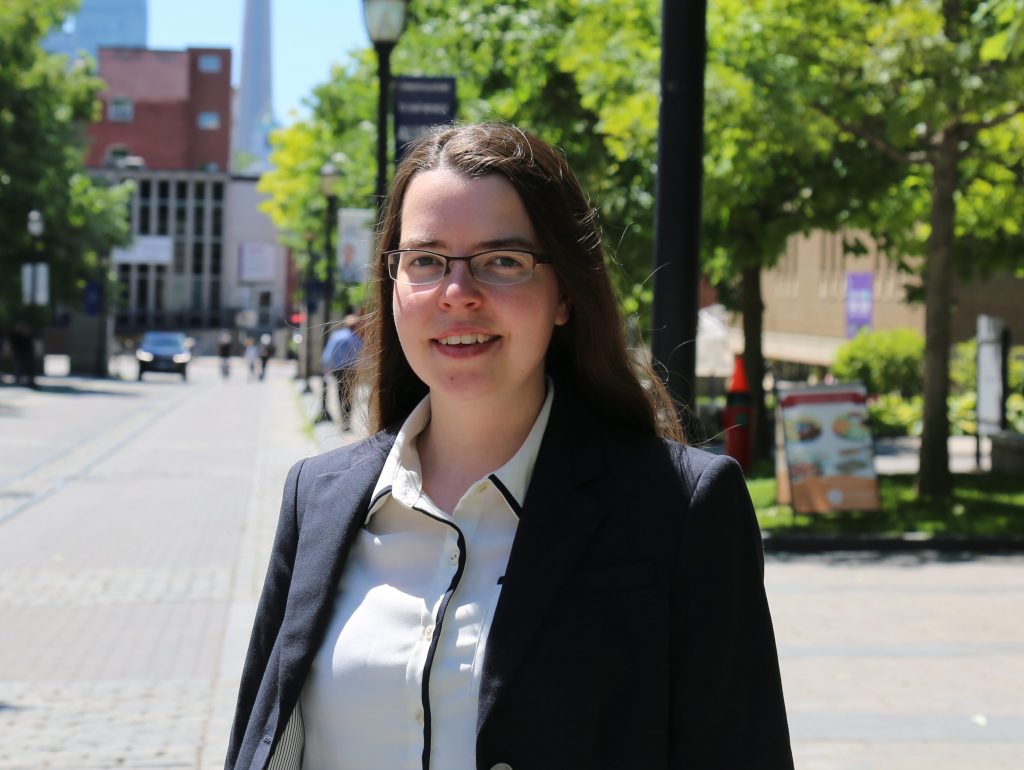 June 19, 2018 – On June 19, MIE faculty and staff are proud to see a new crop of students receive their degrees at Convocation Hall. As these newest engineering alumni go on to contribute to our society in a myriad of ways, here are the stories of just some of the many promising students who will be graduating this month from MIE.
Marina Freire-Gormaly (EngSci 1T0+PEY, MIE MASc 1T3, PhD 1T8) has wanted to make a global impact since her undergraduate years. During her undergraduate thesis project with Professors Yu-Ling Cheng (ChemE), Director of the Centre for Global Engineering (CGEN), and Murray Metcalfe, Professor of Globalization, "I got a taste of both research and global engineering at work," said Freire-Gormaly.
The project focused on rural electrification in Bihar, India. The experience spurred her to pursue a master's degree at MIE with Professors Aimy Bazylak and Heather L. MacLean (CivE), and then a PhD under the supervision of Professor Amy Bilton.
"The program at MIE, the community, location and access to resources helped me to decide to stay here," she said. "And I knew I wanted a PhD project that was personally motivating."
Conducting research in Professor Bilton's Water and Energy Research Lab (WERL), she's focused her attention on developing a solar-powered drinking water treatment system for remote communities.
"I could feel that while I was toiling in the lab or modeling on the computer, that the results could be used to improve the lives of some of the world's most vulnerable people."
Freire-Gormaly, who receives her PhD today at Convocation Hall, hopes to build on her work in Professor Bilton's lab, now as a post-doctoral fellow. MIE recently spoke to Freire-Gormaly to learn more about her time here, and how she hopes to change the world in the years to come.
How will you use your engineering degree to make a difference or to
contribute to society?
I hope to use the skills, tools, and approaches from my engineering degree to increase access to clean energy and clean drinking water to all of society.
What do you hope to accomplish in the next 10 years?
I hope to help alleviate the energy and water crises facing historically marginalized and remote communities by building on my research experiences at MIE. I'm very optimistic for the journey over the next 10 years.
How does it feel to now be a part of the MIE alumni community?
The MIE alumni community is a great network of accomplished alumni. I'm also really excited that the U of T Engineering CONNECT has also reached such a huge number of members too. I'm really looking forward to connecting more with this MIE alumni community and giving back as a mentor to the next generation.
Describe your experience at MIE in one word.
Intriguing!
What have been the highlights of your academic career at MIE?
During the PhD, I was able to present at several international conference, work towards publishing five peer-reviewed journal papers, including a recent publication in Desalination. I also designed, built and constructed new experimental equipment to characterize the membrane fouling under intermittent operation, did fieldwork collecting groundwater from a well in Nobleton, ON, collaborating with the Toronto and Region Conservation Authority, developed a modeling tool for designing future solar powered water treatment systems and worked with a great team of students in the WERL lab.
I also thoroughly enjoyed serving the MIE community as the president of the AMIGAS (Association of Mechanical and Industrial Engineering Graduate Students) in 2014-2015 and supporting AMIGAS as the VP Finance from 2015-2018. It was a great team of students and a great way to contribute to the MIE community by organizing events and activities to engage everyone to participate together.
This spring, I was also humbled to be nominated by the Cross-Disciplinary Programs Office for the TATP Course Instructor Teaching Excellence Award for using engaging methods in teaching 'APS510: Innovative Energy Technologies and Global Energy Systems ' twice in the fall of 2017 and fall 2016. I honed many of these teaching methods while mentoring young people teaching a course I developed called 'Sustainable Energy and Entrepreneurs' in the Da'Vinci Engineering Education Program for several summers throughout my PhD.
Looking back on your time here, do you have any people you'd like to thank?
I am also very thankful for the NSERC CGS-D scholarship, the Department of Mechanical and Industrial Engineering at the University of Toronto for the fellowship and Conference Travel Grant, and to the Province of Ontario for the Queen Elizabeth II/Dupont Graduate Scholarship in Science and Technology, the Hatch Graduate Scholarship for Sustainable Energy, the Paul Cadario Doctoral Fellowship in Global Engineering, the Mary Gertrude L'Anson Scholarship and the Ontario Society of Professional Engineers (OSPE) Personal Scholarship.
I have been very fortunate to work with Professor Amy Bilton for my PhD. Her mentorship, leadership and work-ethic has been instrumental. I greatly appreciate her guidance, assistance troubleshooting the experimental equipment and systematic approach to everything. Her dedication to global engineering research, teaching and her students is inspirational. Working with her, helping set-up the lab and seeing it grow over the past years has been an incredible experience.
The support of my family, friends, mentors and the MIE faculty and staff was instrumental in achieving this goal. I am really grateful for all the support I received throughout my time at MIE. The Institute for Sustainable Energy, Institute for Water Innovation, Centre for Global Engineering and iLEAD were all a part of shaping my academic career.