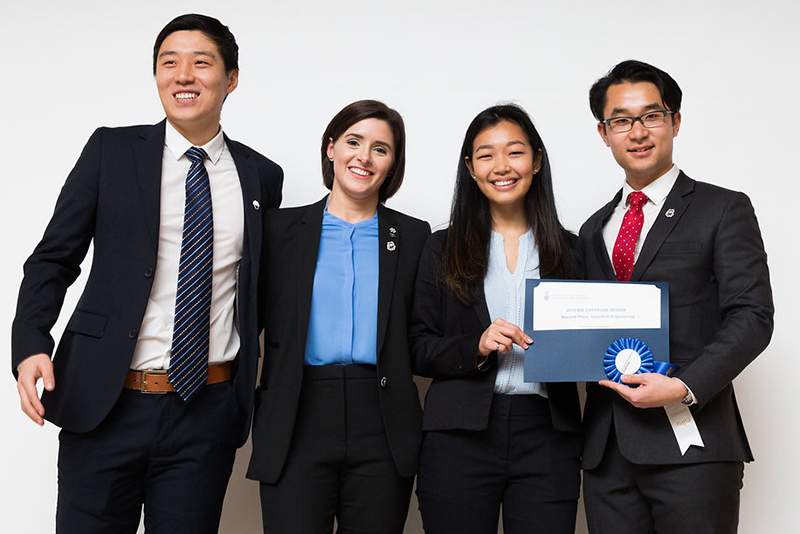 June 18, 2018 – On June 19, MIE faculty and staff are proud to see a new crop of students receive their degrees at Convocation Hall. As these newest engineering alumni go on to contribute to our society in a myriad of ways, here are the stories of just some of the many promising students who will be graduating this month from MIE.
Industrial engineering students Richard Ren, Madeleine Santia, Jessica Ma and Chris (Ze Hao) Zhu did nothing short of incredible work for their MIE Capstone client, Salesforce. The American cloud computing company, which centres around Customer Relationship Management software, tasked the students to develop a strategy that would optimize the percentage of outbound calls resulting in an answer.
The group's engineering solutions, supervised by Professor Timothy Chan, not only garnered high praise by their client, as well as a second-place win at the MIE Capstone Showcase, but it made a lasting impact on the company's operations. Salesforce is incorporating the group's work into its fiscal planning and execution strategy. And not only that, the company offered jobs to both Ren and Santia at their San Francisco headquarters. Ren will be working as an Associate Analyst in Sales Strategy, while Santia will also be joining as an Associate Analyst in Marketing Analytics & Strategy.
MIE recently spoke to the group to learn more about their capstone success and what they plan to accomplish post-graduation.
---
Richard Ren (R), Madeleine Santia (M), Jessica Ma (J) and Chris (Ze Hao) Zhu (C):
Can you tell us about your capstone project?
J&R: We developed an operating model for the Sales Development Representative (SDR) team to follow that consisted of operational guidelines to maximize efficiency and of the organization. We created hypotheses regarding organizational change backed by data analytics, which we tested by conducting pilots. Parts of the operating model are already in use with plans for other segments to be implemented in the near future. The SDR Organization makes ~2 million calls a year, so we were very proud of our end deliverable as any operational improvement has a massive impact.
M&C: Building on operational guidelines and existing operations research techniques, we built a prototype of a long term scheduling tool that maximizes the overall effectiveness of an SDR throughout the day. This future vision can be used to increase connectivity with other organizations and to introduce automation.
How does it feel to now be a part of the MIE alumni community?
J: I personally benefited immensely from the alumni community while in school, and I'm excited to pay it forward by sharing my experiences and advice with other fellow MIE students.
R: It feels awesome. I am happy to now be in a position to potentially help students, as many Alumni contributed to my great engineering experience.
C: I'm proud to be a part of such an extensive community, and look forward to learning from and contributing to it!
M: I'm looking forward to being in a position to mentor the new generation of students in MIE. Throughout university, I've been lucky enough to have several upper year and graduated mentors so I want to pay that forward.
Describe your experience at MIE in one word.
J: Growth.
R: Rewarding.
C: Nurturing.
M: Enriching.
What have been the highlights of your academic career at MIE?
J: Through the capstone project, getting the opportunity to hear Michelle Obama's talk about education and female empowerment at Dreamforce, Salesforce's biggest conference.
R: Meeting all the amazing people.
C: Learning from the diverse individuals both in and out of the classroom, and also going on an academic exchange to ETH Zurich in Switzerland.
M: In the same vein as Jessica, hearing Michelle Obama's speech was one of the best moments of my academic career. As my fourth-year thesis, I studied the impacts of verbal and sexual harassment on female engineering interns so her message really hit home for me.
What do you hope to accomplish in the next 10 years?
J: I hope to be utilizing my engineering skills in the global development sector.
R: I am very passionate about immigrant empowerment and poverty alleviation due to my upbringing. I hope to see myself making a significant impact in those two issues in the near future.
C: I hope to create a venture that positively changes how some people experience life.
M: Beyond encouraging women to pursue degrees in engineering, I would like to use the knowledge and information accumulated through my thesis studies to positively transform the perception and rhetoric surrounding women in engineering and to promote the proper and fair inclusion of women in the engineering workforce.